Press release
Justine Greening welcomes UN cross-border aid for Syria
International Development Secretary responds to first UN cross-border aid convoy into Syria since new Security Council Resolution.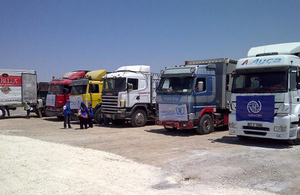 International Development Secretary Justine Greening has welcomed the UN's first cross-border aid convoy into Syria since UN Security Council Resolution 2165 was passed last Monday, backed strongly by the UK.
Justine Greening said:
The Syrian regime has consistently refused to allow aid deliveries across its borders from neighbouring countries, denying more than a million people desperately needed food, water and medicine.
Earlier this year, Britain took the decision to step up cross border operations in defiance of Syrian regime restrictions and lobbied vigorously for the Security Council resolution agreed last Monday. This green light means the UN has now made its first cross-border aid delivery, an incredibly important and welcome first step.
It is now vital that the UN opens up this new lifeline in order to assist as many Syrian civilians as possible.
For the first time, Security Council Resolution 2165 gave UN agencies authority to deliver aid cross-border into Syria without the consent of the Syrian government. The UN has now confirmed that a convoy of nine trucks has crossed into Syria from the Turkish crossing at Bab al-Salam, carrying food, shelter, water purification and sanitation supplies.
Published 25 July 2014