Press release
Justine Greening statement on 5 years of conflict in Syria
International Development Secretary comments ahead of the 5th anniversary of the start of the conflict.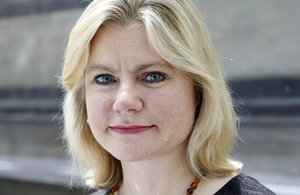 Speaking ahead of the 5th anniversary of the start of the conflict in Syria on 15 March, International Development Secretary Justine Greening said:
For a whole generation of Syrian children, war and displacement is the only life they have ever known or can now remember. This is a conflict that has destroyed not only schools and hospitals, but childhoods as well.

For hundreds of thousands of Syrians exhausted by five years of bloodshed, the current cessation of hostilities has offered some respite and at least a reduction in the number of attacks on civilians. Desperately needed deliveries of food, winter clothing and other essential aid are now getting through to besieged areas across Syria.

This is a start, but we must do more. That means ensuring aid workers have a free hand to get help wherever it is needed, regardless of who holds the ground. It also means speeding up the process for agreeing access and making sure that medical supplies and surgical items are not blocked from being delivered.

While sieges continue to starve families in towns and cities across Syria and arbitrary restrictions on the free movement of people and goods remain in place, Syria's suffering will continue. These sieges must be lifted. Ultimately, only a resumption of peace talks and a negotiated political solution can bring about an end to this crisis.

Since day one of this conflict, the UK has consistently led the way in getting help where it is needed and in galvanising the international response. Our support far exceeds any previous response to a humanitarian crisis and millions of people are receiving lifesaving water, food, shelter and medical care as a result.

Last month, the UK co-hosted an international conference in London for Syria and the region, where the international community came together to promise in excess of $11 billion - more than has ever been committed for a humanitarian crisis in a single day.

We also pledged to provide an education for all children who have been robbed of the chance to go to school by the conflict. And we agreed commitments to create at least 1 million jobs in countries neighbouring Syria, so that refugees get the chance to make a life close to their home. These long-term promises provide the best support for Syria and the region and are also in our national interest.

At the London Conference, the world spoke with one voice to offer the Syrian people and their children the promise of a better future. We pledged that we would stand alongside them now and when the time came to rebuild their country.

To do anything less would be a betrayal of the people of Syria.
Notes to editors
The UK has committed over £2.3 billion in humanitarian support in response to the Syria crisis since 2012. This includes allocations to over 30 implementing partners, including United Nations agencies, international non-governmental organisations and the Red Cross, and is helping to meet the immediate needs of vulnerable people in Syria and of refugees in the region.
For more information on the UK's humanitarian response, please see: https://www.gov.uk/government/publications/factsheet-the-uks-humanitarian-aid-response-to-the-syria-crisis
For more information on the London Syria Conference, please see: http://www.supportingsyria2016.com.
General media queries
Follow the DFID Media office on Twitter - @DFID_Press
Published 12 March 2016