Press release
Joint FCO/DFID statement on Eastern Ghouta and White Helmets
The Foreign Secretary and International Development Secretary have jointly commented on the situation in Eastern Ghouta.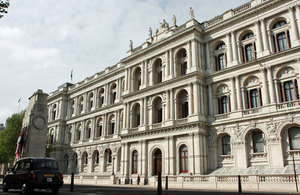 Foreign Secretary Boris Johnson, and International Development Secretary Penny Mordaunt, said:
The situation in Eastern Ghouta is heart-breaking. Asad's regime, backed by Russia, is progressively laying waste to opposition-held areas. Tens of thousands of people have fled. And with no independent monitoring or provisions for civilian safety, those fleeing are vulnerable and at risk of mistreatment and abuse by the regime, including being detained, disappeared or separated from their families.

Appallingly we have seen this happen time and time again in the Syria conflict. Humanitarian and health workers, including the heroic White Helmets, report that the regime is deliberately targeting them. Those who support the regime in carrying out these atrocities and vile murders have lost their moral compass entirely.

Evacuations from the hell on earth that is Eastern Ghouta must be safe, voluntary, and independently monitored. Whether civilians choose to stay or leave, they must be protected against attack and have access to basic supplies to survive.

The security, safety and dignity of the population, including humanitarian and medical personnel, must be guaranteed at all stages. And the UN is ready to provide assistance to these people, whether they choose to stay or leave.

The regime and its backers must immediately implement UN Security Council Resolution 2401, allowing humanitarian agencies to provide the help that is so desperately needed and evacuate those who urgently need medical attention.
Further information
Published 22 March 2018