News story
John Penrose: Championing the changemakers
John Penrose, Minister for Constitutional Reform, encourages young people to get involved in democratic processes.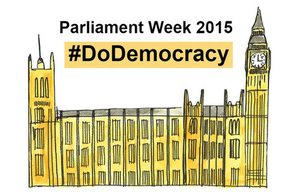 In Parliament Week, Minister for Constitutional Reform John Penrose explains why it's important for young people to engage in democracy:
We are now in the full swing of Parliament Week – an annual event with organisations across the UK running sessions and activities about politics and democracy. It's about connecting people with Parliament and helping them to understand what democracy means.

This is something I believe is very important. A democracy is only as effective as the people who are engaged in it. And these people are you. That's why this week I will be meeting with young people to talk to them about what would motivate them to register to vote and get involved.

Today I'll be visiting a school in Romford that has been running lessons on Rock Enrol! – the government's initiative to get young people to engage with democracy and encourage them to register to vote. Then on Thursday I'll be holding a Youth Ambassador Reception in the Houses of Parliament.

It is clear that, far from apathy or disinterest, young people have an appetite for politics. Over 2.9 million people aged 16 to 24 have applied to register to vote since June 2014. But, the proportion of young people on the register is still too low. There is more work to be done to engage anyone who is apprehensive about voting or isn't sure how to participate.

One of the ways in which the government has responded to feedback is by making it easier to register to vote. Ahead of the general election 2015 Individual Electoral Registration was introduced, including a new facility to register online. This can be accessed at https://www.gov.uk/register-to-vote and will only take 3 minutes of your time to #RegisterToVote.

We want young people to have their voices heard and also to share their experience of exploring democracy and registering to vote with us. If you are part of a youth organisation and would like to work with us or hear more about our resources, please contact us: DemocracticEngagement@cabinetoffice.gov.uk.
Published 17 November 2015