News story
Jo Swinson launches Business is Good for Equality report
British Chambers of Commerce booklet highlights how diversity is good for business.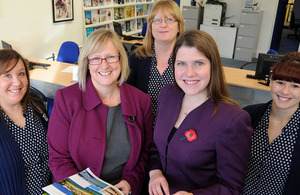 The booklet produced by the British Chambers of Commerce (BCC), in partnership with the Government Equalities Office (GEO) explores the many ways that business is good for equality.
The Business is Good for Equality report (PDF, 1.87MB, 16 pages) highlights that:
avoiding discrimination and treating staff fairly ensures access to the best talent, which allows businesses to maximise profits and create wealth
diverse workplaces are usually stronger, because different individuals each bring their own strengths, which complement each other when working as a team
Speaking at the London Chamber of Commerce and Industry, Minister for Business and Women and Equalities Minister Jo Swinson said:
This new booklet is a fantastic example of the excellent work the BCC and employers all over the country are already doing to highlight how diversity is good for business.
What I've learnt from meeting local businesses, across the country, is that employers don't need convincing of the positive business case for equality in the 21st century workplace. But as many smaller firms have told us they don't always feel they know enough and they want to be confident that they are complying properly with the law. This new booklet will be a helpful new resource which should give them that confidence.
Today's event wraps up a series of regional events, including meetings in Surrey and Durham, designed to help raise awareness of equality laws in business.
Read Jo Swinson's blog on the British Chambers of Commerce website.
Further information
Published 15 May 2013