News story
International event to tackle overuse of antibiotics
The Prince of Wales joins experts from around the world to discuss how best to prevent antimicrobial resistance (AMR) in animals and humans.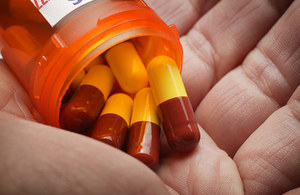 Today's (12 May 2016) conference, held at the Royal Society, focuses on the need to ensure antibiotics are used responsibly in animal and human health.
The Prince of Wales, a long-standing advocate of sustainable agriculture, is joining senior leaders, experts, academics and ambassadors from around the world to discuss:
antibiotic resistance and the link between human and animal health
farming practices
barriers to improved practice
the need to build on the successful surveillance networks already in place
For decades, humans and animals have relied on antibiotics and other antimicrobials. However, as a result, infections are developing resistance to the drugs.
If this continues, it is estimated that by 2050 the world will face an additional 10 million deaths due to antibiotic resistant infections at a cost of $100 trillion to the global economy.
Chief Medical Officer Professor Dame Sally Davies and Chief Veterinary Officer Professor Nigel Gibbens are hosting the event, while Health Secretary Jeremy Hunt, Defra Minister George Eustice and Public Health Minister Jane Ellison will address the meeting.
Chief Medical Officer, Professor Dame Sally Davies said:
It's has long been my personal goal to encourage responsible use of antibiotics in human and animal health, and the agriculture, farming, fisheries and environmental sectors. When we use antibiotics inappropriately, we are increasing the opportunities for the bugs to develop resistance – the biggest threat to human health today.

Today's event focusses on agriculture and the links between antibiotic use and human health. By cutting the inappropriate use of antibiotics in animals, as we are moving to do in humans, we will preserve our antibiotics for longer.

This summit is an exciting step in building international support in the global fight against drug resistance.
This meeting is one of a series of events leading up to the UN General Assembly meeting on antimicrobial resistance in New York in September, to seek high level support for global action to tackle antimicrobial resistance.
Chief Veterinary Officer, Nigel Gibbens said:
Today's conference not only highlights the need to tackle the significant and growing threat of antimicrobial resistance, but also the international commitment to tackling it. It's only by working together that we can reduce the development of AMR.

We need to minimise disease risks in animals, enable accurate diagnosis and ensure that when animals do get sick they can be treated in a way that does not put human health at risk.
This is part of the UK 5 year antimicrobial resistance (AMR) strategy being implemented by Department of Health, Department for Environment, Food and Rural Affairs (Defra) and Public Health England (PHE).
For more information about the UK AMR strategy contact: amr@dh.gsi.gov.uk
Published 12 May 2016