World news story
Information and events for UK nationals living in Greece
The British Embassy and Consulate Network are holding a series of meetings with UK nationals across Greece.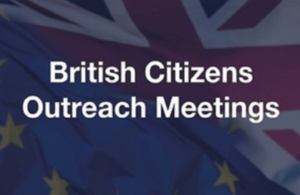 In a continuous effort to reach as many UK Nationals currently living in Greece as possible, we are announcing future events for British expats. During the meetings there will be an update on developments around EU exit followed up by questions and discussion on this and any other matter that concerns them regarding the UK's departure from the European Union or living in Greece.
Meetings are free and open to all UK Nationals. Please watch this space for further updates on upcoming events. Some of these events may require pre-registration – please check requirements described below.
Upcoming events across Greece
December
Mid-December 2018: Zakynthos – details to be announced soon
2019
Wednesday 23 January 2019: Rhodes – to be confirmed
February 2019: Thessaloniki – to be confirmed
Mid-March 2019: Corfu – to be confirmed
Previous events across Greece
2018
Aegina
Athens
Corfu
Crete (Apokoronas - Chania, Rethymno, Agios Nikolaos - Lasithi, Malia - Heraklion)
Evia
Kalymnos
Kos
Paxos
Poros
Rhodes
Skiathos
Thessaloniki
To receive updates on outreach events in your area, follow UK in Greece accounts on Facebook and Twitter and the British Ambassador Kate Smith CMG on Twitter, and keep an eye on this website for more news.
For up-to-date information online please sign up for email alerts on living in Greece.
For questions concerning your rights as a UK National in Greece please contact us.
Useful links
If you have attended one of our previous meetings, please give us feedback here.
Published 16 November 2018