Press release
Indian business angels to make first UK investment
India's largest business angels group is set to make its first investment in a UK start-up.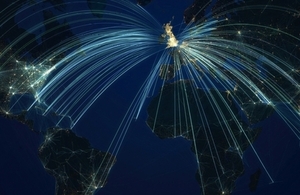 The Indian Angel Network (IAN) is Asia's largest angel network of over 250 investors comprising a who's who of successful entrepreneurs and CEOs, spread across 10 countries.
The successful London-based company, SwiftShift, has invented a software solution that allows companies to quickly fill short notice shifts using their own staff through SMS, email, and mobile technology.
The announcement, which is subject to due diligence, follows a reception for the IAN investor group at Number 10 on Tuesday (25 February 2014) attended by the Prime Minister, Vince Cable, Matthew Hancock and Oliver Letwin.
In November 2013 the Prime Minister met the IAN in India where they agreed to set up a UK base to invest in British start-ups.
Minister for Government Policy Oliver Letwin said:
The UK consistently ranks in the top 3 places for global investors due, in part, to the dynamism and innovation of our start-up companies.

There is a wealth of British talent and potential that needs the right investment and bringing the Indian Angel Network to this country forms part of our efforts to ease access to finance for start ups and attract foreign capital.

I am thrilled that they are set to make their first investment and hope that this will be the first of many.
Indian firms are now the 5th largest investors in the UK and more than 50% of Indian investment into Europe goes to the UK.
Today's (26 February 2014) announcement was facilitated by UK Trade and Investment (UKTI) as part of its strategy to target investment from high-growth markets such as India and China.
The Network has already invested in start-ups in countries including the USA, Canada, France, Hong Kong, Singapore, Sri Lanka and India.
IAN has a portfolio of 100 plus companies across multiple sectors like IT, Mobile, Healthcare and Education, Gaming, Hospitality, Semiconductor, and social media, and has made several successful exits, the best 1 returning 22 times capital.
Saurabh Srivastava, co-founder of IAN, who is leading the initiative said:
The UK is home to some of the best innovation and R&D in the world. IAN, is a rare and possibly the only angel group in the world that has global membership and invests globally, with nimble yet robust, standardised, transparent processes that operate across geographies.

We are thankful to the UK government for their support and are excited about supporting innovative UK startups, going global, fostering UK India collaboration in the early stage arena and driving economic growth in the region.

We are delighted to have decided on our first UK investment and we believe that SwiftShift's product will be sold around the world.
The Indian Angel Network decided to invest in SwiftShift following a pitching session in London organised by UKTI where 7 companies presented to the investors. The network was also impressed by 3 of the other companies and has agreed to continue talks with them.
The Indian Angel Network invests in start-ups and early stage ventures, it has an investor base of over 250 angels from India and 10 other countries around the world.
The audit and tax advisory firm KPMG also announced today (26 February 2014) that it is supporting this initiative by becoming a corporate partner for the IAN network, which will see them provide support services for the IAN in the UK.
Notes to editors:
To contact the Indian Angel Network email Padmaja Ruparel on padmaja@indianangelnetwork.com

Key members of the network include Saurabh Srivastava, Member of Indian Prime Minister's National Innovation Council & Co founder of NASSCOM & IAN; Raman Roy, co founder of IAN and Quatrro; Pramod Bhasin, Founder & Vice Chairman of Genpact; Sunil Munjal Joint MD of Hero Motocorp; Ajai Chowdhry Co founder of HCL; Sanjeev Bikhchandani, cofounder & Vice Chairman of naukri.com; Hemant Kanakia, cofounder of Torrent Networks; Deep Kalra, founder of Makemytrip.com; Ashok Trivedi, co founder of Igate; Jyoti Sagar, founder of JSA Law; Jerry Rao, founder of Mphasis; Harish Mehta, co founder of NASSCOM and founder Onward Group and Avinash Vashishta, Chairman Accenture India and others.

IAN's UK investor members include Dan Sandhu, ex Chairman of Vertex, Nitin Singhal, founder of Fresco Global; Algy Williams, founder of Babel Media, David Best, Non-executive director of Senior plc.; Buchan Scott, Partner, Duke Street; Julian Childs, Angel Investor; Farokh Engineer, former Indian Cricketer; WSG Entertainment, and others.

IAN looks to invest in innovative/disruptive propositions that are looking to achieve scale quickly.

In the 2012 Autumn Statement, UKTI was awarded an additional £70 million for each of 2013/14 and 2014/15, enabling the recruitment of more international trade advisers around the country, expansion of existing services including the Trade Access Programme (TAP) and the Overseas Market Introduction Service (OMIS), and support to expand the range of assistance available to UK companies through overseas British chambers of commerce.

The government's economic policy objective is to achieve 'strong, sustainable and balanced growth that is more evenly shared across the country and between industries'. It set 4 ambitions in the 'Plan for Growth', published at Budget 2011:

to create the most competitive tax system in the G20
to make the UK the best place in Europe to start, finance and grow a business
to encourage investment and exports as a route to a more balanced economy
to create a more educated workforce that is the most flexible in Europe Work is underway across government to achieve these ambitions, including progress on more than 250 measures as part of the Growth Review. Developing an Industrial Strategy gives new impetus to this work by providing businesses, investors and the public with more clarity about the long-term direction in which the government wants the economy to travel.

UK Trade and Investment (UKTI) is the government department that helps UK-based companies succeed in the global economy. We also help overseas companies bring their high quality investment to the UK's economy – acknowledged as Europe's best place from which to succeed in global business. UKTI offers expertise and contacts through its extensive network of specialists in the UK, and in British embassies and other diplomatic offices around the world. We provide companies with the tools they require to be competitive on the world stage. For more information on UKTI, visit www.ukti.gov.uk or visit the online newsroom at www.ukti.gov.uk/media.
Published 26 February 2014