News story
Independent review of junior doctors' morale, training and support
Professor Dame Sue Bailey to lead an independent review to better understand junior doctors' experience.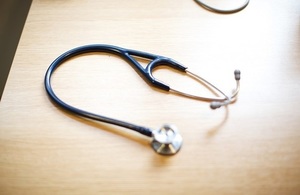 An independent review of junior doctors' experience of their NHS training and employment will be conducted to better understand and deal with the longstanding issue of low morale.
The review will be led by Professor Dame Sue Bailey, Chair of the Academy of Medical Royal Colleges. Professor Bailey will work alongside representatives from other organisations including the Royal Colleges, Health Education England, NHS England, NHS Employers and junior doctors.
The review will explore and make recommendations on the longstanding non-contractual issues that we know affect morale, including:
Relationships between junior doctors and their employers - junior doctors' placements can be as short as 4 months, which sometimes results in a breakdown in relationships between hospitals and their doctors. The NHS Staff Survey has found junior doctors are less likely than other staff groups to feel valued by the hospital they work for, and are less likely to understand how their role fits into the organisation or how they can contribute to work improvement.

Relationships between junior doctors and their senior medical colleagues - junior doctors often rely on good relationships with their senior medical colleagues to help them develop their careers.

Competing demands between NHS service requirements and training and education – too often junior doctors miss training opportunities or don't receive support around exam time because of pressures within the service.

Competing demands between NHS service requirements and supporting doctors to progress in their careers – doctors may not always get their first choice of speciality due to oversubscription or shortages in certain specialities.

Working environments, facilities and bullying.

Flexibility around annual leave and notice periods ahead of future placements.
Health Secretary Jeremy Hunt said:
It is paramount that we address the deep-seated issues relating to junior doctors' morale, wellbeing and quality of life.

Providing a fair, safe contract is one element of that but it is vitally important that doctors get additional support around training and education, working conditions and flexible holiday that enables them to achieve their full potential, and values them for the dedication they give to patients and the NHS.
Professor Dame Sue Bailey said:
I am privileged to have been asked to lead this review and look forward to working with colleagues from a range of relevant organisations whose input will be invaluable.

This work is crucial to improve working life for junior doctors and, as we know, improving the morale of staff will improve the quality of patient care. That is why this is such an important task and so, I am sure, all parties will be fully committed to ensuring we are successful.

I particularly want to hear about the concerns of junior doctors directly so we can, as a whole NHS community, significantly improve the morale and wellbeing of trainees. We will work openly to ensure all views are heard, understood and then acted upon.
Sir David Dalton, Chief Executive of Salford Royal NHS Foundation Trust and lead negotiator on the junior doctors' contract, asked the government to commission the review to address the longstanding concerns and high level of discontent that has been fermenting for some years.
The review team will make recommendations to the Department of Health, Health Education England and NHS Employers by the end of the year.
The terms of reference for the review will be set out shortly.
Published 12 February 2016