Press release
Improving motoring services
Suggesting improvements about how motoring services are delivered consultation.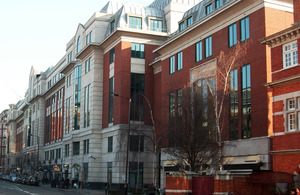 Road users, businesses and other stakeholders were today invited to suggest improvements to the way motoring services such as driving tests and vehicle licensing are delivered.
The government is putting customers firmly at the heart of the way motoring services are delivered so that they best serve the consumer while getting the best possible deal for the taxpayer.
To achieve this, the Department for Transport is outlining broad reform proposals for the 4 motoring services agencies: Driving Standards Agency (DSA); Driver and Vehicle Licensing Agency (DVLA); Vehicle and Operator Services Agency (VOSA) and the Vehicle Certification Agency (VCA).
Roads Minister Stephen Hammond said:
If you drive, run a business or pay taxes you will be a customer of ours and I hope you will have your say about how we can improve the services we offer you.

Much progress has already been achieved and it is now much easier to use digital services to get driving licences, and sort out vehicle tax. We have also already announced that we are bringing the driving test closer to customers by exploring a range of different locations, such as colleges and retail premises.

But there is more that can be done and this consultation is about the government listening to its customers before agreeing the way forward.
The department's 4 agencies are already engaged in programmes of reform to deliver long term financial stability and efficiency, and better services.
The consultation sets out a longer term view of the future of these reforms.
The department will:
position the agencies at the forefront of digital services, ensuring that those who find access to digital services difficult are supported to do so.
support economic growth and vehicle manufacturing by reforming the Vehicle Certification Agency.
bring the driving test closer to the customer by exploring opportunities to improve convenience to customers. This includes assessing options for the delivery of the practical test. We are keen to explore all options that maintain the integrity of the test and high quality standards whoever is the provider.
transform HGV, bus and coach testing by expanding joint ventures and collaboration with private sector providers, and reducing the number of government owned test stations.
deliver better customer services.
consider rationalising the number of bodies and agencies involved in delivering services - delivering services as simply as possible, increasing flexibility and innovation, improving efficiency and reducing costs.
The consultation will run until 7 March 2013.
Notes to editors
The consultation is the department's response to the government's broader vision for public services as set out in the civil service reform plan, the Open Public Services white paper and the government digital strategy
The consultation document can be found on the GOV.UK website.
Press enquiries: 020 7944 3066
Out of hours: 020 7944 4292
Public enquiries: 0300 330 3000
Published 13 December 2012