Press release
Hydro Industries announces £20million contract during visit by Welsh Secretary
Secretary of State for Wales congratulates Hydro Industries on a new multi-million pound contract announced during Llangennech visit.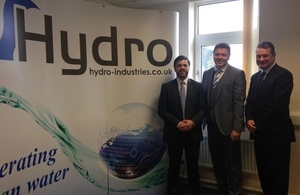 The company, which specialises in water purification using electro based technology, has announced a new £20 million joint-venture deal in the United Arab Emirates (UAE) to assist the country achieve more effective water treatment solutions. Its new business deal is a joint venture with M Partners, a UAE business group headquartered in Abu Dhabi.
Secretary of State for Wales Stephen Crabb said:
This is fantastic news for Hydro Industries coming on top of its success in the recent Fast Growth 50 awards. The potential for Hydro Industries to recruit up to 40 skilled staff during the next three years, and the positive impact its growth is set to bring to the supply chain industries, is great news for the Welsh economy. I am delighted to be visiting its site in Llangennech as it announces this major new business deal and to hear its plans for future expansion.
Wayne Preece, CEO of Hydro Industries, said:
This deal has been the culmination of more than a year's work in the Emirates to position Hydro with the best possible organisation to build its business and brand. The deal is expected to be worth more than £20m in orders during the next three years, meaning more skilled jobs in Wales to support the new export orders in the UAE region.
During his visit to Hydro Industries Stephen Crabb also highlighted how Welsh innovation and entrepreneurial spirit is gaining a growing global reputation, something which next month's UK Investment Summit in Wales will be looking to maximise.
Stephen Crabb added:
Hydro Industries is a great example of Welsh innovation at its best. We will build on our nation's growing global reputation for innovation, particularly in the high-tech sector, at next month's UK Investment Summit in Wales. This international conference, which is part of our long-term economic plan to boost the Welsh economy, is all about showing businesses why Wales should be top of their list as a destination for investment.
Background:
Hydro Industries was announced as the overall winner of the 16th annual Fast Growth 50 awards at a ceremony attended by Mr Crabb on Friday 17th October in Cardiff. Founded just four years ago, Hydro Industries has seen a turnover growth rate of more than 750 % during the last two years, from £258,000 to more than £2 million.
Click here for more information about the UK Investment Summit.
Click here for a press release issued earlier this week about Fast Growth 50 from the Wales Office.
Published 23 October 2014