Press release
Winner of this year's Fast Growth 50 Awards exemplifies innovation at its best
Hydro Industries overall winner of 16th annual awards attended by Secretary of State for Wales Stephen Crabb in Cardiff.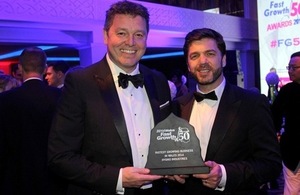 Secretary of State for Wales Stephen Crabb said:
Hydro Industries exemplifies Welsh innovation at its best. Founded just 4 years ago, it has seen a turnover growth rate of more than 750% during the last two years, from £258,000 to more than £2 million.

This amazing achievement demonstrates the crucial role that our talented, home-grown businesses and entrepreneurs are playing in creating jobs and driving economic growth across Wales. It also shows that our long-term economic plan is helping to create the right conditions and confidence for businesses in Wales to invest and grow.
Stephen Crabb is due to visit Llangennech-based Hydro Industries later this week. The company is pioneering electro-based technology in water purification to benefit communities in some of the world's most deprived regions. As well as learning more about the company's plans Mr Crabb will hear how its growth is helping benefit the SME supply chain in Wales.
He said the entrepreneurial talent showcased during the Fast Growth 50 Awards, which recognises some of the fastest growing companies in Wales, also boded well for the UK International Investment Summit coming to Wales in November.
Stephen Crabb added:
Wales has a growing reputation as home to talented entrepreneurs, and in producing some of the most innovative products and services on the planet. Next month's Investment Summit, with its focus on the high-tech sector, is a great opportunity to demonstrate our innovation, our highly skilled workforce and why international investors should sit up and take notice of Wales.
Click here for more information about the UK Investment Summit.
Published 20 October 2014