World news story
Human Rights Council 40: UK Statement under Item 2 – Country Reports
The UK sets out human rights concerns in Yemen, Iran, Venezuela, Honduras, Guatemala and Colombia during the Item 2 presentation of reports.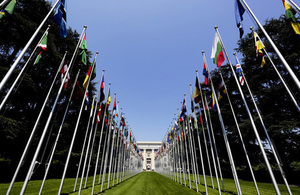 The UK is grateful to the High Commissioner for her reports and the oral updates presented today.
The UK remains concerned about the situation in Yemen. Large-scale human rights violations and abuses continue, including recruitment of child soldiers, arbitrary detention, attacks on freedom of religion or belief, and attacks on freedom of expression and association. There has also been a lack of progress on women's rights.
We remain concerned about Iran's human rights violations, including judicial processes inconsistent with international standards. We deplore Iran's use of dual nationals as pawns for diplomatic leverage. We urge Iran to stop harassing journalists, and to stop using the death penalty – particularly for juvenile offenders.
The UK is extremely concerned about the worsening human rights situation in Venezuela. The de facto regime is responsible for a humanitarian crisis and the rule of law has been weakened. The regime has used force against peaceful protesters, stifled media freedom, and harassed journalists and human rights defenders.
In Honduras, we welcome the establishment of the Protection Mechanism for Human Rights Defenders, but underline the need for adequate funding. The UK urges the government to renew the mandate of the Mission Against Corruption and Impunity.
We are concerned about attacks against human rights defenders in Guatemala and ask that the government ensure thorough investigations. We urge Guatemala to fulfil the commitments it made at the Universal Periodic Review and to avoid promoting a regressive agenda with respect to human rights.
We welcome Colombia's work to bring sustainable peace to former conflict areas. However, we are concerned that the President's recent objections to the transitional justice system will undermine those efforts. Additionally, we are concerned that the government has failed to address the killings of Human Rights Defenders.
Thank you.
Published 20 March 2019