World news story
Human Rights Council 40: High Commissioner's Report
The UK highlighted its concerns regarding violations in several countries and supported Israel's right to defend itself, but raised concerns about Israel's actions in the OPTs.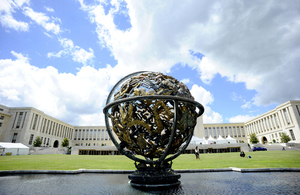 Thank you Mr President.
The United Kingdom welcomes the High Commissioner's report.
The UK supports Israel's right to defend itself and condemns Hamas rocket fire. However, we remain concerned about Israel's actions in the Occupied Palestinian Territories, in particular settlement activity, demolitions and evictions, the treatment of Palestinians in detention and restrictions on Gaza.
We remain troubled by human rights violations in Nicaragua and find the use of terrorism charges to criminalise protests alarming. We call on the Nicaraguan government to resume meaningful political dialogue.
In El Salvador we are troubled by the enduring high rates of femicide and violence against women
We remain concerned about Zimbabwe following the disproportionate response by security forces to protests in January. We call on the Zimbabwean government to quickly, and credibly, investigate allegations of human rights violations.
In Bangladesh, irregularities and violence during recent elections were concerning. We expect the Government and all parties to now work together to uphold democracy, freedom of expression, and the rule of law.
We urge the government of the Philippines to conduct thorough investigations into killings associated with the "war on drugs", to defend the safety of land rights activists, and to ensure freedom of the media.
In Cambodia, Kem Sokha's lengthy detention without trial is a concern. The July 2018 elections lacked legitimacy, and we urge the Cambodian government to lift restraints on political discourse. We recognise the improvements made to the Political Parties Law Article 45.
In Vietnam, restrictions on freedom of expression and assembly, and on the media, as well as actions taken against people exercising their constitutional rights should end. We welcome progress on economic and social rights, as well as on the rights of LGBT people.
Finally, the UK calls on Thailand to sign the 1951 Convention on Refugees, and to maintain space for all voices to be heard in the election campaign.
Thank you Mr President.
Published 7 March 2019