World news story
Human Rights Council 39: UK Statement on the integration of a gender perspective
The UK strengthened its commitment to gender equality and highlighted its actions in reducing violence against women and girls in conflict-affected communities.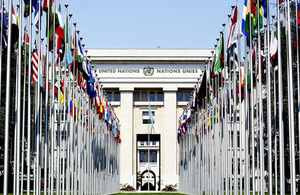 Thank you, Mr President,
The United Kingdom welcomes today's discussion.
The UK Government is committed to gender equality, including SDG 5, reflected in the appointment of our Special Envoy for Gender Equality and our commitment to 12 years of quality education for all girls. We believe that all people should be able to live with dignity, free from violence or discrimination, regardless of their sexual orientation or gender identity. We continue to build on our obligations under the UK's pivotal International Development (Gender Equality) Act 2014 to consider gender equality at the outset of all our development and humanitarian assistance.
It is crucial to integrate a gender perspective into investigations into human rights violations and abuses. For women and girls, violations and abuses, including conflict-related sexual violence, almost always have their roots in wider gender inequality and discriminatory social norms. Through adopting a gender sensitive approach that recognises these drivers, investigations are more likely to meet the needs of survivors of gender-based violence, understand their lived experiences and better put in place measures to prevent such violations and abuses in the future.
The UK is leading research on the most effective interventions to drive down global rates of violence against women and girls. Our "What Works" Programme is pioneering approaches to understand and prevent gender-based violence. In Pakistan and Afghanistan, for example, our evaluations of violence prevention programmes in schools have shown significant reductions in violence of around 50%. In the DRC, engagement with faith leaders to prevent VAWG in conflict-affected communities has helped reduce rates of intimate partner violence from 70% to 30%.
Mr President,
We would welcome the panellists' views on what training should be provided to investigators to ensure that all investigations adopt gender sensitive methodologies.
Thank you.
Published 24 September 2018