Press release
Help to Buy puts new generation of home owners on housing ladder
More than 2,000 people have put in offers on homes under the Help to Buy scheme, totalling £365 million of new mortgage lending.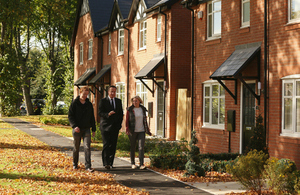 Help To Buy: statement by David Cameron
Supporting responsible lending
Applications are backed by a 'decision in principle' by RBS and Lloyds, the first 2 participating banks, for 95 per cent mortgages. Ten of the 2,384 applications have already completed.
The figures demonstrate that government-backed Help to Buy scheme is supporting responsible lending. On average households have asked to borrow around £155,000 for houses worth about £163,000, which is below the UK average price of £247,000.
More than three quarters of the applicants are first-time buyers and many in their early thirties, demonstrating that Help to Buy is helping hardworking people realise their home-owning aspirations.
The Prime Minister said:
4 weeks in and it's clear that Help to Buy is already delivering. In just 1 month, over 2,000 people have been accepted for a Help to Buy mortgage. Or put another way, 75 families every single day have been put on the path to owning their dream home.

But the best thing about Help to Buy isn't the statistics - it's who is really benefiting. Most Help to Buy applicants are first-time buyers, young and have a roughly average household income. This is all about helping hardworking people get on the first rung of the property ladder - and helping them get on in life.

Owning a home is about more than 4 walls to sleep in at night. It's about independence, self-reliance, moving on and moving up. Above all, it's about aspiration. Help to Buy is helping people realise the dream of home ownership - and it's a key part of my plan for Britain.
95 per cent mortgages
Applicants will face average monthly repayments of around £900 and have an annual household income of around £45,000. This means a Help to Buy mortgage represents 24 per cent of borrowers' gross income, which compares to the historical Council of Mortgage Lenders' average figure of 24 per cent across the UK.
A 2-year fixed rate 95 per cent mortgage for the average house under Help to Buy is also £2,557 cheaper per year, compared to the equivalent mortgage from 2007.
Help to Buy has seen applications for 95 per cent mortgages massively increase the size of the market - giving first-time buyers the same kind of opportunities to buy their own homes as their parents and grandparents. A 95 per cent mortgage has been the route to ownership for most first-time buyers over the last 30 years.
The banks have received applications from across the country with more than 3 quarters coming from outside London and the South East.
Almost 65 per cent of the UK mortgage market has now signed up to Help to Buy and more mortgage products from HSBC, Barclays, Santander, Virgin Money and Aldermore will be released in the coming months.
The government's Help to Buy equity loan scheme, launched earlier this year, has had an impact on house building with over 15,000 reservations for newly built homes, while the total number of aspiring homeowners helped in total by government schemes is now over 42,000. Housing starts are now a third higher than at the same time last year and it is clear house building will remain a critical part of our economic recovery.
Help to Buy: stories from people who have benefited
The Prime Minister will today meet some of the first people to benefit from the Help to Buy scheme. Here's what some of them had to say:
Josh and Bethany from Darwen, Lancashire
Josh Riley, 22, and Bethany Riley, 23, are newlyweds and first-time buyers from Darwen. They said:
Help to Buy has literally been a dream come true for us. Thanks to this wonderful opportunity we will be on the property ladder and in our own home for Christmas 2013. We are now looking forward to a long and happy future together without the worry of never owning our own home looming over us.
Aaron and Victoria from Yorkshire
First-time buyers Aaron Ward & Victoria Hajba are from York and currently renting in Doncaster. They are buying a house in Goole and are looking to move into their new home later this month.
Aaron is 24 years old and a computer network engineer. He said:
We had been looking at buying a house for around 6 months, however could never seriously think about moving due to the large deposit required. We saw the Help to Buy scheme and expected to wait until January for the release. Due to the early arrival of the scheme we have now been able to buy our property much earlier than anticipated.
Stacey and Ryan from Maidstone
Stacey Judge and Ryan Parks live in Maidstone, Kent. Stacey, aged 24 is a nanny, Ryan, 24, is a welder. Stacey said:
We have been saving for a while now and have been working really hard to get enough money for a deposit. We were both very happy to qualify for the Help to Buy scheme as we are now on the property ladder and have a lovely house much earlier than expected. The scheme really does benefit hard working people.
Sharon from Southampton
Sharon O'Donnell, estate agent, aged 30 from Southampton, said:
It was really important for me, as a mother, to provide a safe, comfortable and stable environment for my daughter. And being an estate agent, I appreciated the importance of getting on the housing ladder. Without Help to Buy this wouldn't have been a possibility.
Ian from Southampton
First-time buyer Ian Pidgley from Southampton is 22 years old and a marine electrician. Ian is looking to move into his new home in the new year. Ian said:
The Help to Buy scheme started within a few days of me first contacting the mortgage advisor. It was really helpful, as it cut the deposit in half - in fact without it, I wouldn't have been able to afford to buy at all. Now I can look forward to owning my own home.
Holly from Weston-super-Mare
Holly Sykes is a civil servant and her husband is a teacher. They have 2 children.
They said:
This scheme has given us the opportunity to purchase a home to accommodate our family - without this scheme it would have been harder to move and buy the house we needed.
Louise from Bedford
First-time buyer Louise Cox from Bedford is 26 years old and a police officer.
She said:
I have been saving to buy a house for approximately 4 years. I have been struggling to save a 10 per cent deposit, especially because I want to buy on my own. I was interested when the first Help to Buy scheme came out. However I did not want to buy a brand new house. I had heard rumours of a second help to buy scheme that may be out by January 2014. I kept saving and was pleased to hear when the scheme came out 3 months early. I quickly found a house I was interested in buying and was able to get the mortgage on the scheme. I am hoping to move in by the beginning of December.
Haley and Struan from Edinburgh
Haley Preston and her brother Struan Preston from Edinburgh, the first RBS customers to complete on a purchase, said:
We'd been looking at buying a flat together before the scheme launched, but Help to Buy has made moving into one so much easier than we'd hoped. We've saved hard to pull together the deposit and owning our own property is a dream come true. I'd say to anyone else with a smaller deposit who thinks they can afford to pay a mortgage to speak to an adviser, like we did.
Further information
The Help to Buy: mortgage guarantee scheme offers lenders the option to purchase a government guarantee on mortgages on both new build and existing homes, where a borrower has a deposit of between 5 per cent and 20 per cent.
The guarantee scheme will support thousands into home ownership, and help both first-time buyers and existing homeowners.
On 8 October 2013, the Chancellor announced that borrowers can start benefitting with immediate effect from the Help to Buy: mortgage guarantee scheme. Lenders who have signed up to participate in the scheme can start originating mortgages supported by Help to Buy: mortgage guarantee scheme, which could be eligible for inclusion in the scheme once the scheme opens. The mortgage guarantee scheme will remain for 3 years.
High Street banks including Natwest, RBS, Halifax (part of the Lloyds Banking Group) and Bank of Scotland have already started offering mortgages supported by Help to Buy: mortgage guarantee scheme. HSBC, Barclays, Santander, Virgin Money and Aldermore have also confirmed they will join the scheme in the coming months. HM Treasury also expect more lenders to join in the future.
On 1 April 2013 the government launched the Help to Buy: equity loan scheme.
This is available to all those who aspire to own a new build home, but struggle to access or afford the repayments on a low deposit mortgage.
Under the scheme the government:
provides an equity loan worth up to 20 per cent of the value of a new build home, interest free for the first 5 years, to be repaid on sale or when the mortgage is repaid
has significantly widened the eligibility criteria for equity loans to ensure as many people as possible are able to benefit; the maximum home value is £600,000 and there is no income cap constraint
has ensured that the scheme is open not only to first-time buyers but also to all those looking to move up the housing ladder
The equity loan scheme is open for 3 years.
Published 11 November 2013