News story
Healthcare Innovation Expo 2013 starts tomorrow
The Healthcare Innovation Expo will take place in London on 13 and 14 March, exhibiting the latest developments in healthcare.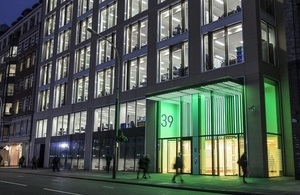 Up to 10,000 people are expected to attend Innovation Expo at ExCeL London on 13 and 14 March, where hundreds of companies and organisations will be exhibiting the latest developments in healthcare.
The Secretary of State, Jeremy Hunt, Minister for Care Services Norman Lamb and Parliamentary Under-Secretary of State for Quality Lord Howe will be attending the event.
Jeremy Hunt will be speaking about the 'health information revolution' at 3pm on 13 March. To get the latest news and live coverage of the Secretary of State's technology speech on twitter, follow @LizatDH. The Secretary of State has already challenged the NHS to become paperless by 2018, which would make the NHS the most modern digital health service in the world.
A dedicated area of the exhibition hall will be devoted to a 'Dementia Village', hosted by the Department of Health, to showcase good practice and innovation in dementia care, dementia friendly communities and research. Jeremy Hunt and Norman Lamb are among the speakers appearing on the dementia stage. On 13 March the Department of Health will be running a live blog from the Dementia Village including photos, video and audio of what is happening. Follow @AnnaHepburnDH to find out more.
The first day of expo, on 13 March, is also NHS Change Day, an event started by NHS staff to help create change. There will be a pledge wall at the event where visitors to expo will be making their own pledges.
Published 12 March 2013