Press release
Gym users to get better deal in 2017
Fairer contracts and cheaper deals will be available to gym-goers in 2017, as the post-Christmas rush to get fit begins.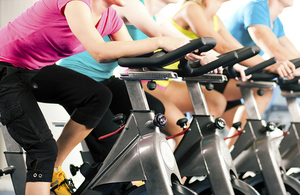 Gym users have saved around £37 million in recent years, following an investigation by the Competition and Markets Authority's (CMA) predecessor.
750,000 people have already directly benefited from this work, with contracts no longer tying gym users into multi-year deals, offering more choice and allowing cancellations. Other innovations have also emerged in this £2.7 billion a year market, such as the rise of 'pay-as-you-go' memberships, further improving the offer available.
Nisha Arora, Senior Director for Consumer Enforcement, said:
It's great to see that gym-goers are already getting far better deals than they used to. Contracts no longer routinely run for more than a year, and are cancellable without hefty penalties if your circumstances change. Thanks to our predecessor's investigation the UK's 8.75 million active gym members are able to benefit from these improvements.

If you're thinking about signing up to a gym in the New Year, don't forget to shop around to find the best deal for you – whether that be a pay-as-you-go or annual contract – and check your contract's length and cancellation policies, so you can stop paying if your circumstances change. We also want gyms to continue innovating and offering their customers competitive deals.
The Office of Fair Trading (OFT) initially urged all gyms to check their contract terms were fair and lawful under consumer protection law, after the High Court ordered Ashbourne Management Services Limited not to use certain unfair terms in 2011 following complaints from certain members about lengthy contracts they could not cancel.
Following a further investigation by the OFT in 2013, 6 other gym operators agreed to give members better cancellation rights and make their contract terms easier to understand. Twenty extra gyms were warned to review their terms and conditions and ensure that they were fair.
Consumer Minister Margot James said:
Gym-goers have already saved millions of pounds because of this work and thousands more are set to benefit as they look to get fit in the New Year. I would urge people to check the small print before locking themselves into long-term contracts.
The CMA, which has taken on some of the OFT's consumer enforcement powers, has now evaluated the impact of the OFT's work and found that the industry had largely abandoned the terms the OFT challenged and the terms available to consumers are now fair and more advantageous. Around 750,000 gym members have directly benefited from the intervention, they have saved £37 million and complaints about gyms have fallen significantly.
The CMA is committed to ensuring that contracts do not unfairly lock in consumers or prevent them from switching providers, and has worked with a number of sectors including cloud storage, wedding and events and higher education to improve terms and conditions. We also have several investigations running into complaints about potentially unfair terms and conditions, including in the online gambling and care homes sectors.
In addition to sector-specific guidance in these areas, the CMA has also produced short and simple guides aimed at helping consumers and businesses to understand their rights and obligations under consumer law.
Notes for editors
The CMA is the UK's primary competition and consumer authority. It is an independent non-ministerial government department with responsibility for carrying out investigations into mergers, markets and the regulated industries and enforcing competition and consumer law. From 1 April 2014 it took over the functions of the Competition Commission and the competition and certain consumer functions of the OFT, as amended by the Enterprise and Regulatory Reform Act 2013. For more information see our homepage on GOV.UK.
The evaluation of the OFT's interventions into the health and fitness sector was carried out by the CMA's internal evaluation team and reviewed by an independent academic economist, Professor Stephen Davies, Professor of Economics at the University of East Anglia (UEA) and one of the 4 founders of the ESRC Centre for Competition Policy at UEA.
The CMA estimates that the OFT intervention saved consumers around £37 million between August 2011 and June 2014. The CMA considered how gym contracts had changed following the OFT intervention and how much of that change could be attributed to the OFT. The benefits were then calculated by first estimating the number of consumers that benefited from the changes then how much each consumer would have saved over the period. By combining these figures, the CMA reached its overall estimate of the benefits of the OFT intervention. In addition, the evaluation found that the intervention had brought about other benefits, such as: changes by other gyms in the sector; the impact of changes made to contract suspension terms; and the impact of more easily being able to exit contracts on increasing competition in the sector.
Gym membership figures: The Leisure Database Company (2015), '2015 State of the Fitness Industry Report'.
Annual value of UK gym sector as reported in the Mintel 'Health and Fitness Clubs - UK - July 2015' report.
The Citizens Advice consumer helpline is a telephone, email and online service offering advice to consumers where they have a problem with goods and services in the UK.
The CMA has produced a range of guidance for businesses including: 'cancelling a contract: when and how', 'subscriptions and automatic rollovers', and 'excessive charges and disproportionate sanctions'.
Enquiries should be directed to Simon Belgard (simon.belgard@cma.gsi.gov.uk, 020 3738 6472).
Published 29 December 2016