News story
Grants to boost childcare start-ups
Find out if you're entitled to financial help for your childcare business.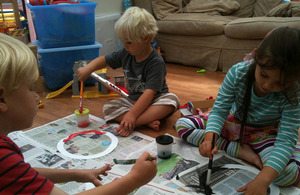 Anyone who wants to set up a new nursery or childminding business can apply for grants of up to £500 to help cover the costs of things like training, equipment, insurance, and adaptations to premises.
The money, part of a £2 million scheme launched in April 2013, is helping to get over 1,000 new start-ups off the ground and get more mothers back into the workplace.
Fledgling businesses are also being encouraged to team up with a free business mentor so they can access specially-tailored business start-up advice.
Minister for Women and Equalities, Maria Miller said:
I know how good childcare and the peace of mind it brings can be such an important part of women returning to work.
This cash boost is helping people in tough times and providing more childcare options so that women who want to can get back to work. Equally, these grants are also providing a helping hand for more entrepreneurs to start-up and run their own businesses, adding to the country's economic growth. It's a double win.
If you think a childcare business is right for you, I would urge you to apply as soon as possible to get funding of your own.
Rachel Patchett received a grant in May and is now running her own child minding business at RAF Leeming. She said:
I heard about the grant through my local authority. It was super-easy to apply for and the money was in my bank account before the confirmation letter had a chance to arrive – the whole thing was done in a week.
The grant helped cover the cost of things including OFSTED fees, my CRB check, basic training, first aid and food hygiene, as well as professional membership and insurance. This meant I could then invest my own money in other things like equipment and toys. I would recommend the scheme to as many people as possible.
Welcoming the scheme, Purnima Tanuku OBE, Chief Executive of National Day Nurseries Association, said:
Good quality childcare is vitally important in a child's development and a parent's peace of mind if they choose to go back to work. Setting up a new business can be daunting it is vital people get the right support and advice. The Childcare Business Grants Scheme, helps people kick start their business and set them on the right path.
Liz Bayram, Chief Executive of the Professional Association for Childcare and Early Years, said:
These grants will provide a welcome contribution to childminders looking to establish and expand individual businesses. They may also provide some support for nurseries, for whom the cost of establishment is significantly higher. PACEY is keen to see that the grants are distributed effectively and are not subject to misuse. This means channelling funds to where vital support for increased childcare provision is most needed and for whom this provision is crucial, especially for families with disabled children.
Visit the childcare business scheme website to find out if you're eligible to apply for a grant.
Boosting childcare provision
The grant scheme comes on top of a package of measures that government is taking forward to boost childcare provision and get more women into work, including:
a new tax break for childcare costs, worth up to £1,200 per child per year
overhauling childcare qualifications
providing more choice of quality education and care for parents
extending the right to request flexible working to all employees
allowing parents to share up to a year's leave to care for their newborn child
Further information
Published 26 September 2013