News story
£2 million grant scheme to boost childcare launched
Initiative could help launch up to 6,000 nursery or childminder start-ups.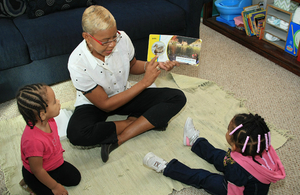 From today, people who want to set up a new nursery or a childminding business can apply for a grant to help cover start-up costs.
The scheme is designed to get more women into work and help drive economic growth by offering grants of up to £500 to help cover things like legal and insurance costs, training, equipment, and adapting premises. Applicants will also be encouraged to join up with a free business mentor and get specially-tailored business start-up advice, to help launch up to 6,000 new childcare businesses start-ups.
Visit the childcare business scheme website to find out if you're eligible to apply for a grant.
Minister for Women and Equalities Maria Miller said: "Good quality, affordable and reliable childcare is key to more women being able get into and stay in the workplace. More childcare options mean more women can take up jobs, help support their families and achieve their own career goals and aspirations.
"The childcare industry is already a major employer of women, and this scheme will mean more opportunities for female entrepreneurs to start up and run their own businesses. This is a cash boost designed to stimulate the sector in tough times."
Charlie Bruin, Business Director, Central Government, at Liberata said: "Liberata is delighted to work with the Government in delivering this important initiative, which will be a real boost to the country's childcare sector."
Further information
Published 1 May 2013