Press release
£2 million grant scheme to boost childcare opens its doors
A £2 million scheme to boost childcare businesses and get more women into work has opened its doors for applications today.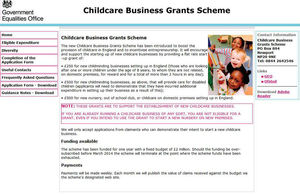 From today (1 May 2013) people who want to set up a new nursery or a childminding business can get grants of up to £500 to help cover things like legal and insurance costs, training, equipment, and adaptations to premises. They will also be encouraged to join up with a free business mentor and access specially-tailored business start-up advice. The scheme will help launch up to 6,000 new childcare businesses.
Minister for Women and Equalities, Maria Miller, said:
Women are absolutely vital to maximising the UK's economic recovery, so it's more important than ever that we ensure we are doing all we can to get more women into work.
We all hear how difficult it is to get childcare and how it is a real barrier for some women getting back into work and we have listened. More childcare options mean more women can take up jobs, help support their families and achieve their own career goals and aspirations.
The childcare industry is already a major employer of women, and this scheme will mean more opportunities for female entrepreneurs to start-up and run their own businesses. This is a cash boost designed to stimulate the sector in tough times.
The grant scheme comes on top of a package of measures that the Government is taking forward to boost childcare provision and get more women into work. That includes: a new tax break for childcare costs for working families, worth up to £1,200 per child per year; overhauling childcare qualifications, and providing more choice of quality education and care for parents; extending the right to request flexible working to all employees; and allowing parents to share up to a year's leave to care for their newborn child.
The £2 million fund was announced by Mrs Miller in November 2012. Liberata UK, a leading provider of business support services, have been appointed to manage the scheme on behalf of the Government.
The government is determined to do even more to help women succeed in the workplace, support childcare and boost female entrepreneurship. That's why it established the Women's Business Council last year to look at the barriers facing women throughout their lives. And, to look at what more can be done to reduce the costs of childcare and burdens on childcare providers, the Prime Minister launched a Commission on Childcare. The Commission will report back later this year.
Notes to Editors
Grants will be available over the financial year 2013/14. Grants will be either £250 or £500, and will support up to 6,000 new childcare businesses, based on £250 for individual childminders and £500 for larger childcare businesses. £250 will in many cases cover the training, mandatory safety checks, and liability insurance for a childminder. For larger businesses (more than 6 children), £500 could help pay for a deposit on a new premises. To find out how to apply for a grant visit the GEO Childcare Business Grants Scheme website.

A total of 85,149 childcare providers are registered with Ofsted, 57,149 of these are childminders.

Government has a wide-ranging programme of support for enterprise, including funding the recruitment and training of 15,000 new business mentors to support those setting up and growing their business. Those wanting to become a mentor should go to the Get Mentoring website; those wanting to find a mentor should go to the Mentors Me website.

People interested in starting a new childcare business can access detailed advice, specifically designed to help new childcare business owners through the start-up process. This advice is available free of charge from a range of professional organisations working in the childcare sector: Further information available here.

The Government established the Women's Business Council (WBC) in May 2012. The WBC is an independent, one-year working group, with the sole aim of ensuring real action by Government, business and others to maximise women's contribution to economic growth. The WBC will publish their report in June 2013. Further information available here.

Last year the Prime Minister launched the Commission on Childcare to look at the affordability and availability of childcare. The commission is due to report back later this year: Further information available here.

The Government is introducing a system of shared parental leave by 2015 so that working couples will be able to share leave and pay remaining when a woman ends her maternity leave. The changes will give parents the choice to determine who stays at home. As well as this the Government is also extending the right to request flexible working to all employees by 2014. This will benefit individuals who need to create a better balance between their personal and work life: Further information available here.

Liberata is one of the UK's leading providers of business process outsourcing and support services for the public and private sector. It delivers payroll, grant administration, IT, finance and accounting services for central government departments; revenue and benefit services for local government; and a wide range of services for the private sector: Further information available here.
Published 1 May 2013