Press release
Government puts business at helm of EU regulation review
Prime Minister announces business leaders to work with government to identify European rules and regulations that need abolition or reform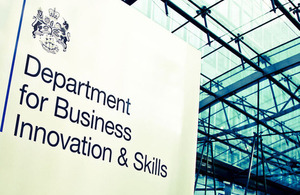 The Prime Minister today announced that six business leaders will work with the government to identify the European rules and regulations that need abolition or reform to help British companies grow.
The group - the latest step in the government's drive to get bureaucracy out of the way of business - will be chaired by Business Minister Michael Fallon.
The business-led review on EU regulation will look at rules including those relating to health and safety, employment law and company registration,
It includes the following business leaders:
Marc Bolland, Chief Executive M&S
Ian Cheshire, CEO Kingfisher
Glenn Cooper, Managing Director, ATG Access
Louise Makin, CEO BTG
Dale Murray CBE, Angel Investor 2011 and BIS Non-Executive Director.
Paul Walsh, Chairman, Compass Group
Business Minister Michael Fallon said:
The government believes in business, not bureaucracy. As well as stripping away unnecessary regulations at home we're fighting hard to promote a pro-business culture in Europe. But our ambitions for growth demand quick action to clear away the rules that create the biggest burdens.
The men and women I've invited to help us to identify and remove barriers to growth represent small and large businesses, established firms and start-ups. They have an unparalleled body of expertise and unquestionable commitment to innovation. We'll listen carefully to their recommendations and demand that the EU takes decisive steps to free up UK firms.
The work of the group will inform government reform and lobbying in Brussels and across Europe, as well as helping shape longer-term thinking about the impact of EU regulation on the UK.
Welcoming the announcement, Simon Walker, Director General of the Institute of Directors, said:
IoD members are all too aware of the heavy burden that unnecessary and poorly designed regulation can place on businesses. We welcome this industry-led taskforce, and hope it will illuminate the areas of European regulation which need urgent reform. British businesses are buzzing with innovation and ambition, and delivering the best possible climate for them to grow should be at the top of the government's agenda.
Marc Bolland, Marks & Spencer Chief Executive, said:
EU regulation has a significant impact on British business. I therefore welcome the opportunity to get to contribute to this important initiative.
Ian Cheshire, Group Chief Executive, Kingfisher plc:
We need a single market fit for the 21st century. That means reducing the regulatory burden on business through a reformed EU. We welcome the government's commitment to working towards this.
Europe's share of world output is projected to fall by almost a third in the next two decades. Evidence suggests that excessive regulation and complex rules are part of the reason for the decline – and the government is committed to radical action to address this.
The panel will report in September 2013.
Notes to editors:
1.The government has worked to improve the regulatory environment in the EU, ended 'gold-plating' of EU regulations and reformed or abolished hundreds of domestic regulations through the Red Tape Challenge. Government reforms have already saved business some £1bn in reduced regulatory costs. A Deregulation Bill be published shortly.
2.The government is separately carrying out 'the Balance of Competences Review', which the Foreign Secretary launched in July 2012. This is an extensive consultation, looking at the scope of the EU's competences as they affect the UK, and how they are used. The business panel will not specifically address competences, nor on such a scale. But it makes sense to have a more focused look, from the perspective of business, on the rules, regulations and practices in Europe that could be reformed so as to make it easier to start and grow businesses and for businesses to export to European and world markets.
3.Panel member biographies
Ian Cheshire, CEO Kingfisher
Appointed to the Board in June 2000 and as Group Chief Executive in January 2008. He is also a non-executive director of Whitbread plc, lead non-executive member on the Department for Work and Pensions Board, member of the Prince of Wales Corporate Leaders Group on Climate Change, and a Member of the Business Disability Forum President's Group. In October 2012, Ian became the Chairman of the British Retail Consortium. Ian was previously Chief Executive, B&Q UK from June 2005. He was appointed Chief Executive International and Development in September 2002, Chief Executive of e-Kingfisher in May 2000 and was Group Director of Strategy. Before joining Kingfisher he worked for a number of retail businesses including Sears.
Dale Murray, Angel Investor
Dale Murray is a business angel investor in early-stage entrepreneurial businesses, recently named Angel Investor of the Year 2011. Prior to being an investor, Dale was a successful entrepreneur in the mobile telecoms sector (start to exit: 3 years; the angels who provided funding half-way through doubled their money in 18 months; grew revenues to £19m). In her early career, she spent time in financial change management; was part of the management team that founded Vodafone NZ; and with Price Waterhouse. She is the Chairman of Cupcake Mom Ltd, Investor/Director of Anakiwa Investments a Founder/MD of Omega Logic (now Eposs Limited) and a lead non-executive member on the Department for Businesses Innovation and Skills.
Marc Bolland, Chief Executive M&S
Marc began his career at Heineken NV in The Netherlands in 1987, occupying several Marketing and Sales management roles. In 1995 he was appointed Managing Director for Heineken in Slovakia, becoming Managing Director for Heineken Export Worldwide in 1999. Marc was then appointed to the Board of Heineken NV in 2001 with responsibility for Western Europe, US, Latin America, Northern Africa and Global Marketing. In 2005 he became Chief Operating Officer. He joined Morrisons in September 2006 as Chief Executive Officer. Marc is currently non-executive Director of Manpower Inc US, and has previously held non-executive Director roles at Hotel de I'Europe, The Netherlands (2003-2006), Quilmes, Argentina (2001-2003).
Paul Walsh, Chairman Compass Group
Paul recently retired as the CEO of Diageo, the world's largest spirits group, which owns brands such as Johnnie Walker, Baileys and Smirnoff. One of the longest serving FTSE 100 chief executive, he has spent the majority of his career at Diageo and its precursor Grand Metropolitan. His most notable decision was the acquisition of the Seagram drinks company, which added Captain Morgan rum and Crown Royal Canadian whisky to the company's roster of brands. Paul has also been a non-executive director at FedEx Corporation since 1996, at Unilever since 2009, and at Avanti Communications since 2012. He is former chairman of the governors at Henley Management College and was a member of the Prime Minister's Business Advisory Group.
Louise Makin, CEO BTG
Louise joined BTG as Chief Executive Officer in October 2004 and she is a non-executive director of Intertek Group plc and a Trustee of the Outward Bound Trust. From 2001, she was President, Biopharmaceuticals Europe of Baxter Healthcare, where she was responsible for Europe, Africa and the Middle East. Louise joined Baxter Healthcare in 2000 as Vice President, Strategy & Business Development Europe. Before joining Baxter, she was Director of Global Ceramics at English China Clay and prior to that she held a variety of roles at ICI.
Glenn Cooper, Managing Director/Owner ATG Access
ATG Access is the country's leading electronic bollard company. Glenn Cooper appointed as MD in 2002 who completed a full management buy out in 2006. Now export to over 40 countries annually. Expect to achieve revenues of between £35-40m over the next five years following significant investment from LDC Private Equity (part of the Lloyds banking group).
4.The government's economic policy objective is to achieve 'strong, sustainable and balanced growth that is more evenly shared across the country and between industries'. It set four ambitions in the 'Plan for Growth', published at Budget 2011:
to create the most competitive tax system in the G20
to make the UK the best place in Europe to start, finance and grow a business
to encourage investment and exports as a route to a more balanced economy
to create a more educated workforce that is the most flexible in Europe.
Work is underway across government to achieve these ambitions, including progress on more than 250 measures as part of the Growth Review. Developing an Industrial Strategy gives new impetus to this work by providing businesses, investors and the public with more clarity about the long-term direction in which the government wants the economy to travel.
Published 28 June 2013