Press release
Government ministers shadow young people at work
Ministers across Whitehall experience a day in the life of young people leaving care as part of National Care Leavers' Week.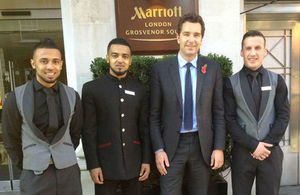 Ministers across Whitehall have swapped their red boxes for rucksacks to experience a day in the life of young people leaving care as part of National Care Leavers' Week.
Government ministers from the Department for Education, Department of Health, Department for Work and Pensions and Ministry of Justice went out and about shadowing care leavers in different parts of the country to gain a better understanding of the challenges faced by these young people and hear their views on how the government can best support them.
Minister for Children and Families Edward Timpson spent the day behind the scenes at the bustling London Marriott Hotel Grosvenor Square with Amar Shatiry, 21, Imad Shatiry, 23, and Eduard Peposhi, 23. The 3 young men have found work through a government-funded programme in partnership with charity Catch22, which helps young people leaving care find work.
Spearheading the visits, Children and Families Minister Edward Timpson, who grew up with over 80 foster brothers and sisters, said:
It was a pleasure to spend the morning with Amar, Imad and Eduard and more importantly to be able to listen to their experiences and get their ideas on how we can better support young people leaving care.

I want to make sure that every single young person leaving care has the same opportunities and chances as their friends to succeed in life and fulfil their ambitions.

That's why we've changed the rules so young people can stay with their foster family until the age of 21, improved financial support so they can put down their first month's rent, and introduced the care leavers' charter. But there's always scope to do more to ensure all young people have the chance to reach their potential.
Prisons Minister, Andrew Selous, visited Swinfen Hall, near Lichfield, in Staffordshire, to see the support being provided to offenders who are care leavers. The minister saw the rehabilitative work taking place in the prison's workshops and education classes, before talking with the 18- to 25-year-olds about a self-help group provided through the Care Leavers' Association.
Minister Andrew Selous said:
We are keen to be able to provide a range of practical and emotional support for care leavers, and I'm pleased to see how well this new group is performing in Swinfen Hall.

Offenders can often feel isolated and unsure of how to make practical arrangements for when they are released, but through this support group we are helping to provide these young men with valuable resettlement links that will help them through the gate into the community, and reduce their risk of reoffending.
Health Minister Norman Lamb met with 3 care leavers to hear about their experiences navigating the mental health system, both during and after leaving care.
Care and Support Minister Norman Lamb said:
I was delighted to meet with a group of young care leavers as part of National Care Leavers Week. I could not help but be impressed by their bravery and resilience, but I was also saddened to hear of the issues they had faced, particularly the challenges in getting support from services such as mental health services, when they needed it most.

I am determined to improve mental health support as part of the commitment to Parity of Esteem. That is why I have commissioned the new children and young people's mental health and well-being taskforce to consider how services for children and young people with mental health problems can be improved, and I have asked the taskforce to work with care leavers and seek their views to inform their work.
Work and Pensions Secretary Iain Duncan Smith met with care leavers at the Care Leaver Hub in Barnet where a specialist Jobcentre adviser is co-located in local authority leaving care premises along with a care leaver charity Drive Forward to offer more intensive employment support.
Minister Iain Duncan Smith said:
It's great to see how departments and services are working together to provide much needed holistic support in helping these young people achieve their full potential and find work.
Chris Wright, Chief Executive of Catch22, said:
We were delighted to welcome Edward Timpson to the London Marriott Hotel Grosvenor Square to meet young care leavers involved in Catch22's Care2Work scheme. The scheme has helped more than 800 care leavers gain world of work knowledge, skills and experience through employer visits, work experience, apprenticeships and jobs.
Around 10,000 young people aged between 16 and 18 leave care each year. The government believes young people leaving care should get the same leave of care and support their friends and classmates get from their parents, which is why we have:
changed the rules so all young people can continue living with their foster families until their 21st birthday
launched a cross-government strategy which sets out in one place all steps we are taking to support all care leavers to live independently - from housing to health services, and from the justice system to education
introduced the care leavers' charter – a pledge between local authorities and young people leaving care which sets out the support they can expect right up to the age of 25
funded councils to give all care leavers a higher education grant of £2,000 to help them attend university
introduced the Junior Independent Savings Account for all care leavers, with over 46,000 accounts now open with a £200 contribution from government
written to all councils asking them to increase financial support for young people leaving care, resulting in the tripling in the number of councils now paying £2,000 or more
Notes to editors
Established in 2002 by the Care Leavers' Foundation, National Care Leavers' Week looks to highlight the needs of care leavers and raise awareness of the particular challenges faced by this group. Find out more about National Care Leavers' Week on the Care Leavers' Foundation website.

Read more about Care2Work on the National Carer Leavers' Association website.
DfE enquiries
Central newsdesk 020 7783 8300
General enquiries 0370 000 2288
Published 30 October 2014