Press release
GoodGym wins Prime Minister's Big Society Award
A social business matching people who want to keep fit with community projects that need help has been recognised with a Big Society Award.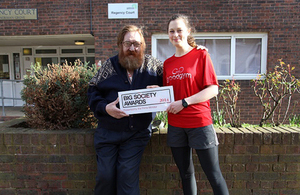 GoodGym, a growing social business that lets people combine working for good with working out in London has been recognised by Prime Minister David Cameron with a Big Society Award. The social business, founded by Ivo Gormley, matches people who want to keep fit with community projects that need help with physical tasks.
GoodGym members swap treadmills for runs to visit lonely elderly people in their area, rowing machines for digging community gardens and weight lifting for clearing derelict land. GoodGym also organises weekly group runs for runners of all fitness levels which always combine fitness and supporting local community projects.
Since its 2012 launch, 1,000 runners have taken part, reaching 250 older people and supporting over 50 community organisations. GoodGym aims to launch in a further 6 areas this year and is on track to double its activity.
Prime Minister David Cameron said:
GoodGym is a fantastically innovative project that is already making a real difference in London.

I'm delighted to give them this Big Society Award and hope they continue to expand across the UK.
Ivo Gormley, Founder, GoodGym said:
We're working hard to keep up with how many people are wanting to get involved in GoodGym. It's exciting hearing the stories of all the new connections people are making through what we do. Hopefully this recognition will get even more people running to do good in their communities.

GoodGym came from a frustration with all of this energy being wasted in gyms; we're trying to make it easy for people to direct this into doing good. We're helping people get fit by lifting things that need to be lifted and giving them a reason to get out for a run. It helps to keep people motivated and ensures that many older people get the support they need.
GoodGym has expanded to 4 London Boroughs as well as Bristol and Liverpool. It continues to grow rapidly and plans to operate in every major city in the UK.
Published 11 March 2014