Press release
G8 dementia: PM calls for UK to lead world in research
David Cameron will unveil millions of pounds of investment in life sciences today as special G8 summit agrees landmark deal on dementia.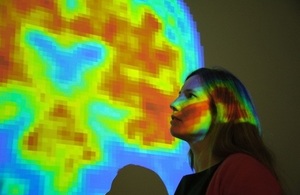 The Prime Minister will announce the UK has now attracted £2 billion in private sector investment in life sciences since the launch of the government's strategy 2 years ago, adding further evidence that the long-term economic plan is working.
He will say that scientific breakthroughs hold the key to slowing down or even preventing the onset of the illness and he wants the growing UK life sciences sector to lead the way.
Private sector investment
Building on the Autumn Statement and in a further boost to the UK life sciences sector, the Prime Minister will set out:
more private sector investment: GlaxoSmithKline (GSK) will announce £200 million of investments, which will create a centre of excellence in pharma manufacturing technology and science that will help translate the latest scientific breakthroughs into practical treatments and drugs, while UCB will invest £3 million in a new laboratory with a cutting-edge robotic platform based in the UK
government to double funding research into dementia: the government committed to spend £52 million in 2012 to 2013 and up to £66 million by 2015; the ambition will now be to double public, commercial and charitable R&D in dementia in the UK by 2025, supporting leading scientists, universities and other institutions in seeking the next breakthrough
a research funding boost: the Medical Research Council (MRC) will invest £150 million for clinical research in the UK, with £50 million to better understand how dementia affects the brain, improve early detection and improve treatments to delay progression of the disease; an extra £25 million will go to the MRC Cognition and Brain Sciences Unit to better understand the cognitive mechanisms of the brain and to use imaging techniques to identify early signs of dementia in people that would not be picked up through current diagnostic tests
the world's largest research collaboration into dementia: a newly-formed UK Dementia Platform will bring together researchers and scientists from the public and private sectors, the platform will allow different teams across the UK to share and benefit from each other's data to increase the scale and scope of their own project
joint action across Europe: the Innovative Medicines Initiative will invest £44 million (€53 million) in Alzheimer drug trials; the European Commission will also invest £460 million (€550 million) and issue a call for proposals into research on neurodegenerative diseases, including UK research institutions and universities
First brain scan
The investment comes on the week that the first ever NHS patient will receive a brain scan that will enable doctors to rule out a diagnosis of Alzheimer's Disease. The scan, the first of many, will take place at Imperial Hospital Trust in London and is a significant breakthrough. Until now diagnosis of the disease has been a serious problem for medical experts.
The Prime Minister will say that while the UK can help lead the way on life sciences, dementia has emerged as the key health challenge of this generation and a global response will be required.
The G8 countries are expected to agree to a package of measures that will see collaboration on research, sharing of expertise and closer cooperation as part of a worldwide push similar to global efforts to fight cancer, malaria and HIV and AIDS.
Globally, 36 million people have dementia and the World Health Organisation predicts that numbers will nearly double every 2 decades – meaning 66 million people will have dementia in 2030 and more than 115 million in 2050. In simple terms, that means someone in the world is diagnosed with dementia every 4 seconds.
The cost to healthcare is huge, with dementia now one of the greatest pressures on healthcare systems around the world. It costs an incredible estimated £370 billion (US $604 billion) – about 1% of the world's GDP.
We must work globally
Speaking ahead of the summit, Prime Minister David Cameron said:
Building a more competitive, resilient economy with new industries and the jobs of the future is a key part of my long-term plan for Britain. That's why we are throwing everything we have at making the UK the place to invest and locate and work in life sciences.

In the past 2 years we've seen £2 billion invested in this country; that will not only mean more jobs and growth, but also more research and greater progress, and it's a huge sign of confidence in our economy.

But if we are to beat dementia, we must also work globally, with nations, business and scientists from all over the world working together as we did with cancer, and with HIV and AIDS. Today, we will get some of the most powerful nations around the table in London to agree how we must go forward together, working towards that next big breakthrough.
Notes to editors
The Dementia G8 takes place at Lancaster House in London from 9am on Wednesday 11 December 2013. The event will be streamed live at http://dementiachallenge.dh.gov.uk/. Broadcasters have already been accredited and will be able to film arrival shots, interviews with G8 health ministers, speakers and delegates. Media wishing to attend the press briefing, which takes place at Lancaster House at 3 pm, should contact Jayne Roberts in the Department of Health Media Centre on 020 7210 5821. The press briefing will be live streamed and pooled broadcast footage will be available. Read more information on the timetable for the day and speakers.

The UK government currently funds a number of Britain's world leading universities and scientists looking into dementia. We are leading the global race in areas such as genetics, cognitive neuroscience and neuroimaging, each essential to furthering dementia research. This government is fully dedicated to furthering dementia research. Government-funded dementia research in England stood at £52.2 million in 2012 to 2013. Earlier this year, research at the Medical Research Council's Toxicology Unit in Leicester showed how it was possible to prevent neurodegeneration in mice, and the identification of the TREM2 gene, which nearly triples the risk of Alzheimer's disease, was part of research by the MRC and the NIHR.

GSK today (Wed) announced an investment of approximately £200 million, with manufacturing sites in Ware, Hertfordshire, and Worthing, Sussex, will be upgraded with state of the art new equipment and a new centre for advanced manufacturing will be built, dedicated to harnessing innovative technologies with the potential to transform the way medicines are made and GSK's supply chain. Today's investment is on top of the £500 million GSK announced in March last year which included a commitment to build a new factory in Ulverston, Cumbria – GSK's first new factory in the UK for 40 years. That investment is creating up to 1,000 jobs and continues to progress on schedule. For more information please contact GSK on +44 20 8047 3763.

UCB has today (11 December 2013) announced the successful completion of a £3.29 million investment in new, cutting-edge robotic laboratory equipment and purpose-built technology at its UK immunology research centre of excellence. The investment centres on an automated antibody discovery platform, designed and built especially for UCB by Farnborough based robotic laboratory experts company Peak Analysis & Automation Ltd (PAA). UCB say this investment is a direct result of the changes to the government's above the line tax credit, giving UCB the confidence to reinvest these savings in the UK. For more information, call Scott Fleming at UCB on +44 7702777378

The Medical Research Council (MRC), in partnership with other organisations, will support UK universities and NHS research institutions with a proven track record in cutting-edge clinical research with a £150 million fund for investment in new research technologies to boost clinical studies. The funding will be for UK universities and NHS research institutions: a third of this will be earmarked for research into dementia. Tel: +44 (0) 207 395 2275

The UK Dementia Platform will bring together researchers and scientists from the public and private sectors as part of a single arrangement to fully exploit research data and results via 1 platform. This will be the largest platform in the world.

The UK has increased its fight against dementia in the last 2 years as part of the PM's Challenge on Dementia and we are seeing progress. Diagnosis rates have increased from 37% in 2009 to 2010 to 48% in 2012 to 2013 – rising by more than 10% in just 4 years; and the number of people being assessed by memory clinics has risen four-fold since 2010 to 2011, with just under half of the people diagnosed with dementia over the past 12 months as being in the early stages of the condition. 108,000 NHS staff have been trained to spot the early symptoms of dementia, learn how to interact with those with dementia and signpost staff to the most appropriate care.
Published 11 December 2013