News story
G7 meeting venue: Hartwell House
This year the G7 will be held at Hartwell House in Buckinghamshire.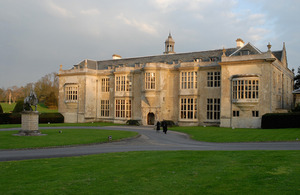 Hartwell House is a National Trust property and one of England's stately homes, situated just 40 miles north west of London. Mentioned in the Domesday Book and once owned by a son of William the Conqueror, the present house was built between the 16th and 18th centuries for the Lee family, 18th Century courtiers.
Its most famous resident was exiled King of France Louis XVIII, who lived there for 5 years from 1809, and who signed his accession papers to the throne of France in the library in 1814.
After a chequered history in the 20th century the empty house was rescued, restored and given new life by Historic House Hotels Ltd between 1987 and 1992. In 2008 the company and all its interests in Hartwell House and 2 restored country house hotels were donated to the National Trust as one of its largest ever gifts to the charity.
Photo by Andy Davy on Flickr. Used under Creative Commons.
Published 9 May 2013