News story
G7 Energy Ministers meeting in Rome
From:

Part of:

Published:

6 May 2014

Last updated:

6 May 2014, see all updates
This was published under the 2010 to 2015 Conservative and Liberal Democrat coalition government
Statement by Edward Davey, Secretary of State for Energy, folllowing his meeting with G7 Ministers in Rome.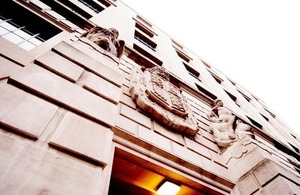 Following the meeting of G7 Energy Ministers in Rome, UK Energy and Climate Change Secretary Edward Davey said:
"Today in Rome, the G7 has started a process of disarmament to prevent energy being used as a weapon in the future.
"We agree that we need a more energy secure future, meaning that no single state or supplier can use such tactics.
"We have agreed to do what's needed to achieve a systematic, enduring step change to improve energy security - not just for the nations in the G7, but for our friends and allies, with a particular focus on Ukraine and its Eastern European neighbours who are most at risk from the use of these tactics by Russia.
"The principles that will guide our work over the months and years ahead are diversified energy supplies, more homegrown energy, better infrastructure to link our markets, reducing our energy needs through energy efficiency, and the powerful role clean energy technologies have to play.
"We recognise that our goals on energy security and climate security are strongly linked. Investing in homegrown clean energy and energy efficiency across our economies is fundamental to greater energy security, just as it is to fighting climate change.
"The UK's strong track record of achievement on clean energy investment and creating stronger energy security, along with our clear roadmap for the future, means we are in a strong position to support other countries in achieving these goals.
"We are united in our determination to work collectively to protect our common energy security. We have made a strong start to a long-term plan that will feed in to the G7 Leaders' meeting in June alongside the work being done by our foreign ministers on sanctions against Russia and other support for Ukraine.
"The shared spirit of collaboration and purpose shown today will ensure our success."
PDF, 167KB, 4 pages
This file may not be suitable for users of assistive technology. Request an accessible format.
If you use assistive technology (such as a screen reader) and need a version of this document in a more accessible format, please email correspondence@decc.gsi.gov.uk. Please tell us what format you need. It will help us if you say what assistive technology you use.
Document information
Published: 6 May 2014
Updated: 6 May 2014
Updated with G7 joint declaration.
First published.