Press release
Funding boost for humanitarian workers on World Humanitarian Day
The UK is providing more than £1 million to improve the personal safety of humanitarian workers who put themselves at risk to help others, International Development Minister Desmond Swayne announced today.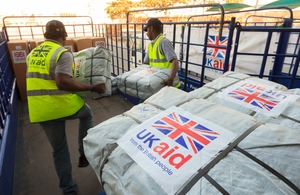 The package of support includes funding for humanitarian worker safety in Iraq, extra training for staff operating in dangerous environments around the world and funding to help establish 3 new NGO staff safety hubs in Iraq, Libya and the Central African Republic (CAR).
The announcement comes on World Humanitarian Day, designated by the UN in order to recognise the efforts and sacrifices of humanitarian workers and falling on the anniversary of the 2003 bombing of the UN headquarters in Iraq.
Desmond Swayne said:
World Humanitarian Day is an opportunity to reflect on the work of the brave men and women who put their own lives at risk to help others. The current crises in Syria, Gaza and Iraq are a dreadful reminder of how important the role of these aid workers is.

While danger and risk are an often unavoidable part of an aid worker's life, our support in the shape of training and personal safety offices in hotspots across the globe will help to minimise the risks.
The extra support announced today is part of the Department for International Development's NGO safety and security programme. It includes:
£150,000 for the European Interagency Security Forum (EISF) to help NGOs in hostile environments strengthen further their security arrangements through workshops and research, giving NGOs and their staff the confidence to continue working in such environments
£594,000 is supporting 5 existing NGO personnel safety offices in Afghanistan, DRC, Kenya, Mali, and Syria and is helping create 3 new offices in Iraq, Libya and CAR. International NGO Safety Organisation's (INSO) Syria programme provides daily support to over 30 NGOs operating from south Turkey. Safety offices are run by security and humanitarian experts to provide reliable, often lifesaving, information about local risks to help NGOs and their staff stay safe
£275,000 for interactive online training on personal security and risk assessments for humanitarian workers. Designed to complement face-to-face training, it is aimed at staff working overseas who are unable to attend training courses due to security or travel restrictions
While the number of attacks on humanitarian workers is increasing around the globe, DFID is promoting personal safety and better danger awareness.
Notes to editors
World Humanitarian Day falls on 19 August. It commemorates the 2003 attack on the UN compound in Baghdad, when 22 UN staff were killed, including the Secretary-General's Special Representative to Iraq, and former Emergency Relief Coordinator and High Commissioner for Refugees, Sergio De Mello.

The International Development Minister Desmond Swayne is attending a wreath laying service at Westminster Abbey on Tuesday 19 August to mark World Humanitarian Day.

Additional funding for humanitarian worker safety in Iraq will be provided to INSO for an emergency response operation which will involve carrying out security assessments and making links between the UN, local authorities and NGOs working on the ground.

As part of DFID's NGO Security and Risk Management programme:

£150,000 has been provided to EISF for 2 years (July 2013 – July 2015)
£594,000 has been provided to INSO for 1 year (February 2014 – February 2015)
£275,000 will be provided to NGO led partnership RedR for three years from September 2014
General media queries
Follow the DFID Media office on Twitter - @DFID_Press
Published 19 August 2014