Press release
Foreign Secretary welcomes UN report on Human Rights abuses in Syria
Foreign Secretary welcomes UN report showing Assad regime has primary responsibility for Syrian people's suffering.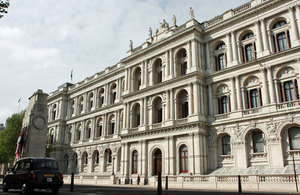 Speaking after the publication of the UN Commission of Inquiry's report, the Foreign Secretary William Hague said:
The UN Commission of Inquiry's (COI) latest report provides further shocking evidence of the brutality of the Syrian conflict. The UK condemns all violations of international humanitarian law and all human rights violations and abuses regardless of who commits them. We call for the situation in Syria to be referred to the International Criminal Court to ensure that the perpetrators of war crimes and crimes against humanity are held to account.

The report clearly illustrates that Assad and his regime have the primary responsibility for the suffering of the Syrian people, through their escalating campaign of indiscriminate air attacks on civilian areas, using sieges and "starvation until submission" tactics, and the widespread and systematic detention and sexual abuse of civilians. The rise of extremist groups has also had a devastating impact on the lives of Syrians, with evidence of extrajudicial executions, torture, and denial of basic freedoms. The report rightly distinguishes between these extremist groups, and opposition groups fighting for a democratic and pluralist Syria.

The vast majority of Syrians want neither tyrant nor terrorists. We will keep working in the Human Rights Council to condemn in the strongest terms the human rights abuses which are primarily being carried out by the Assad regime and extremist groups, and seeking accountability for all those responsible.
Further information
Follow the Foreign Secretary on twitter @WilliamJHague
Follow the Foreign Office on twitter @foreignoffice
Follow the Foreign Office on facebook and Google+
Published 5 March 2014