News story
Foreign Secretary visits the Gulf to discuss regional tensions
Foreign Secretary Boris Johnson attends meetings with Gulf leaders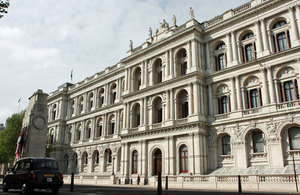 Foreign Secretary Boris Johnson has arrived in Saudi Arabia today (Friday 7 July) for the first in a series of meetings in the Gulf on the current tensions.
In the coming days Mr Johnson will hold talks with leading representatives of Qatar, Saudi Arabia, the UAE and Kuwait.
In Saudi Arabia today he is meeting His Royal Highness Prince Mohammed bin Salman, the Crown Prince and Deputy Prime Minister of Saudi Arabia, and His Highness Sheikh Mohammed bin Zayed Al Nahyan, the Crown Prince of Abu Dhabi.
In the coming days the Foreign Secretary will also travel to Qatar and Kuwait for talks with senior figures from both countries.
The Foreign Secretary will urge all parties to get behind Kuwait's mediation efforts, which the UK strongly supports, and work towards de-escalation and Gulf unity for the sake of regional stability. He will also discuss a range of security and bilateral issues with a particular focus on working together to address the common threats of extremism, radicalisation and terrorism.
The Foreign Secretary said:
Britain's close and historic friendship with all of the Gulf states is becoming even more relevant and important in today's volatile world. As our Prime Minister has said: The Gulf's security is our security and we remain deeply committed to the stability of the region and to working with our friends in the Gulf to keep all of our people safe.

These talks underline the UK's strong support for Kuwait's mediation efforts and I urge all parties to play a constructive role in order to restore the unity of the Gulf Cooperation Council.
Further information
Published 7 July 2017