Press release
Foreign Secretary statement on the 22nd anniversary of the Srebrenica Genocide
Boris Johnson pays tribute to the victims of the 1995 genocide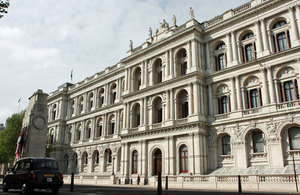 The Foreign Secretary Boris Johnson said:
Today [11 July] is the 22nd anniversary of the massacre in Srebrenica that claimed the lives of more than 8,000 men and boys, amounting to the bloodiest act of mass murder in Europe since the Second World War. The International Criminal Tribunal for the Former Yugoslavia and the International Court of Justice ruled that it was genocide.

It is right that we should pause to remember those who died at Srebrenica – and elsewhere in Bosnia and Herzegovina – and to reflect on the consequences of hatred and bigotry. And we should also look forward to the task of building a better future for Bosnia and Herzegovina. That is why the UK supports essential reforms designed to create jobs and defeat crime and corruption. I call on the leaders of all sides to work together in a spirit of co-operation and reconciliation. Britain stands with those who wish to build a peaceful, united and prosperous future.
Further information
Published 11 July 2017