Press release
Foreign Secretary statement on Maldives election annulment
The Foreign Secretary calls on presidential candidates to respect democratic process and create conditions for free, fair elections.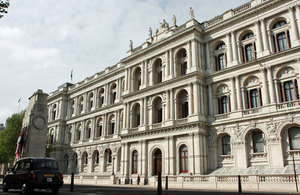 The Foreign Secretary, William Hague, said:
I note the Supreme Court's annulment of the first round of Presidential election results in Maldives, despite the assessment by both international and domestic monitors that proceedings were transparent, fair and credible.

The Elections Commission have now confirmed that the first round will be re-run on 19 October. It is important now that the democratic process proceeds in accordance with the Constitution. It is imperative that there are no further delays and the elections be free, fair and inclusive, and that international observers are invited. In particular, I hope that the process will enable the President elect to be inaugurated by 11 November, in line with the constitutional framework. I urge all presidential candidates to act in line with the interests of the people of Maldives, and to respect the democratic process.

I am also worried by recent reports of intimidation, violence, arrests and arson attacks which have taken place in the past days. We are deeply concerned that Transparency Maldives, as a domestic election monitoring mission, should not be subject to an unwarranted investigation and threats of dissolution. I further call on all parties to take action to create conditions which are conducive to free, fair and transparent elections.
Further information
Follow the Foreign Secretary on twitter @WilliamJHague
Follow the Foreign Office on twitter @foreignoffice
Follow the Foreign Office on facebook and Google+
Published 9 October 2013