Press release
Foreign Secretary speaks to Iranian Foreign Minister
William Hague welcomes implementation of interim nuclear deal and reinforces need for a negotiated political transition in Syria.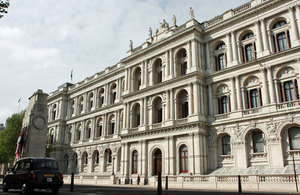 Foreign Secretary William Hague spoke to his Iranian counterpart today. After the call, a Foreign Office spokesperson said:
The Foreign Secretary spoke this afternoon to his Iranian counterpart Mohammad Javad Zarif. They discussed a number of issues, including the conflict in Syria, Iran's nuclear programme and bilateral relations between our two countries.

The Foreign Secretary welcomed the entry into force yesterday of the Joint Plan of Action on Iran's nuclear programme, describing it as an important milestone and a positive step towards addressing some of the most serious concerns about Iran's nuclear programme. He reiterated to Foreign Minister Zarif the UK's strong commitment to working with our E3+3 partners and Iran to achieve a full diplomatic resolution to this issue, and to beginning negotiations on a comprehensive settlement next month.

The Ministers discussed the conflict in Syria. The Foreign Secretary emphasised the importance of the Geneva Communiqué of June 2012 as the basis for ending the conflict in Syria, and said the UK remained open to working with Iran on that basis in the future.

Both Ministers welcomed visits by respective non-resident Chargés d'Affaires and agreed that bilateral relations should develop on a reciprocal and step-by-step basis.
Further information
Follow the Foreign Secretary on twitter @WilliamJHague
Follow the UK Chargé d'Affaires to Iran on twitter @AjaySharmaFCO
Follow the Foreign Office on twitter @foreignoffice
Follow the Foreign Office on facebook and Google+
Published 21 January 2014