Press release
Foreign Secretary meets Australian PM Tony Abbott
Foreign Secretary and Australian Prime Minister discuss Ukraine and Iraq.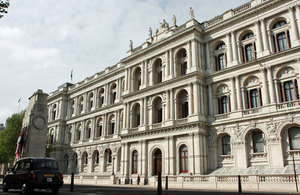 The Foreign Secretary Philip Hammond and Australian Prime Minister Tony Abbott met at the Foreign and Commonwealth Office this afternoon.
Speaking after the meeting, Philip Hammond said:
I was pleased to welcome Tony Abbott to London. Britain and Australia have a long history of close cooperation and, with our shared values, we work together on many global challenges. I offered my sincere condolences to Mr Abbott for the loss of 38 Australian lives on MH17 - both Australia and Britain are united in their determination to establish responsibility for this heinous crime.

We also discussed the situation in Eastern Ukraine, and agreed on the urgent need to support in principle an ICRC-led operation to address humanitarian needs. We agreed that Russia must cease its support for the illegal armed separatists who are responsible for creating the instability in Eastern Ukraine.

We discussed the appalling humanitarian situation in northern Iraq and our shared concern about the terrorist threat from ISIL. We agreed that Iraq's political leaders must work with the country's new Prime Minister-designate to swiftly form a government which can take an inclusive approach to the challenges Iraq faces.

We also discussed the situation in Gaza, where we share a desire to see the current ceasefire extended and transferred into an enduring cessation of hostilities. That will create the conditions for an improvement in the lives of ordinary Gazans, while protecting Israel's security.
Further information
Follow the Foreign Office on twitter @foreignoffice
Follow the Foreign Office on facebook and Google+
Published 12 August 2014