Press release
Foreign Secretary condemns Russian and Chinese veto of ICC referral
William Hague welcomes wide international support for ICC referral and pledges to continue to work for accountability in Syria.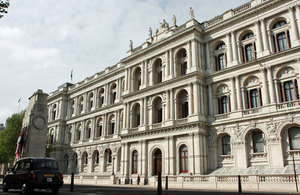 Referring to Russia and China's decision to veto an otherwise unanimous Security Council resolution that would have referred those responsible for crimes against humanity to the International Criminal Court, William Hague said:
I am appalled by Russia and China's decision to veto a non-political resolution to refer all those responsible for war-crimes and crimes against humanity, regardless of affiliation, to the ICC. This was an opportunity for the world to stand up for justice for the Syrian people. Russia and China's actions in preventing this are indefensible.

The resolution had an overwhelming level of international backing. Thirteen members of the Security Council, 65 co-sponsors, over a hundred NGOs from across the world, and the Syrian National Coalition all made clear their support. Russia and China are isolated on this issue, and they will have to justify to the international community and the Syrian people, why they are continuing to shield those responsible for the most horrific atrocities from justice. These include organised use of torture and sexual violence, indiscriminate attacks on civilian populations, the deliberate withholding of humanitarian aid from those starving to death, and the sickening use of chemical weapons against innocent people.

The United Kingdom has a long-standing commitment to accountability and this will not alter. We will intensify our efforts to ensure that those responsible face justice, including by funding the documentation of atrocities. We will also look to expand the EU sanctions regime to cover more people responsible for human rights violations. And as I announced last Thursday, together with our partners in the 'London 11', the core group of the Friends of Syria, we will increase our support for the moderate opposition who are fighting against both the tyrant and the terrorists and who have been clear in their support for international law in general and referral to the ICC in particular.
Further information
Follow the Foreign Secretary on twitter @WilliamJHague
Follow the Foreign Office on twitter @foreignoffice
Follow the Foreign Office on facebook and Google+
Published 22 May 2014