News story
Foreign Office Minister welcomes release of Somali journalist
FCO Minister comments on the release of a Somali journalist who was detained for his involvement in investigating an alleged rape case.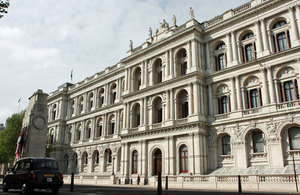 Minister for Africa, Mark Simmonds, said:
We welcome the news of the release of Abdiaziz Abdinur Ibrahim, the journalist who investigated the case of a Somali woman detained after she alleged she was raped by government security forces. We welcome the statement from the Somali Prime Minister calling for continued judicial reform. We will continue to support the efforts of the Federal Government of Somalia to improve their security and strengthen their police and justice systems. We believe it is important to protect freedom of expression and the freedom of the media; journalists have a critical contribution to make to the future of Somalia.
Further Information
Read the Minister's previous statement on the case
Find out about the international conference on Somalia on 7 May in the UK
Published 19 March 2013