Press release
Foreign Office Minister visits Burma's Kachin State
Foreign Office Minister Hugo Swire is the first British Minister since World War II to visit Kachin State in Burma.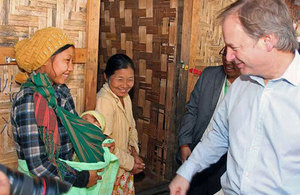 His visit is part of a wider tour of Burma where he has been meeting key political figures, including Aung San Suu Kyi, and discussing the country's progress on democratic reform.
Hugo Swire said:
I am delighted to be the first British Minister to visit Burma's Kachin State since independence in 1948. The Kachin people made a brave and invaluable contribution to the Allied effort in World War II, and I was honoured to speak of our immense gratitude directly to a group of veterans. I also brought a personal message to them from Viscount Slim, son of the great Field Marshal Slim.

It is tragic that this beautiful state today remains blighted by conflict. I urged all sides to build on the momentum in the peace process towards a nationwide ceasefire. I made clear to the authorities the importance of ensuring unfettered humanitarian access, of respecting international human rights standards, and of investigating transparently any allegations of violations.

And I visited a camp for Internally Displaced Peoples where I saw first hand the difference the UK is making as the largest bilateral donor of humanitarian aid to Kachin.
In Kachin, Minister Swire also met UN agencies working in the area to hear first-hand about their work and how the UK can contribute. The UK is providing £13.5m over 2 ½ years.
Tomorrow Mr Swire will meet leaders from the Rohingya and Rakhine communities, give a speech at Rangoon University and meet British businesses.
Further information
Follow Foreign Office Minister Hugo Swire on twitter @HugoSwire
Follow the Foreign Office on twitter @foreignoffice
Follow the Foreign Office on facebook and Google+
Published 29 January 2014