News story
First World War & Decade of Centenaries commemorations - Update
The NIO provides a useful update on progress around the commemoration of First World War and the wider decade of commemorations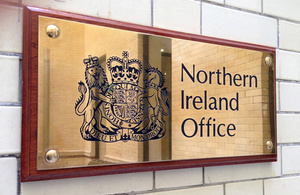 On 9 June 2014, the NIO published its aims for the commemoration of the First World War and the wider decade of 1912-1922 in Ireland.
The NIO continue to work towards these aims and in August 2014 we supported the successful events in St Anne's Cathedral and Belfast City Hall to mark the outbreak of the First World War. Dr Andrew Murrison, the Prime Minister's Special Representative for Centenary Commemoration of the First World War took up Ministerial office in the NIO in July 2014 and embarked on a series of local centenary-related engagements. This has included:
6th Connaught Rangers Research Group exhibition
Last Post project event by Portaferry Regeneration and the Portaferry and Strangford Trust
Somme Heritage Centre
Briefing by the Unionist Centenary Committee
Briefing by The Junction on their Ethical and Shared Remembering Project
Living Legacies outreach event at Belfast Central Library
Linfield Football Club First World War commemorative event
Woodland Trust Centenary Wood at Faughan Valley, Co Londonderry
Creative Centenaries at the Nerve Centre, Derry
2015 will see the centenary of the Gallipoli campaign to which the 10th (Irish) Division contributed so significantly.
The NIO will continue to work closely with the Irish Government, NI civil society, local authorities and the NI Executive on centenary commemorations.
Published 4 March 2015