Press release
First annual refresh of the civil service capabilities plan
The updated plan emphasises priority areas where we need to build capability in the civil service.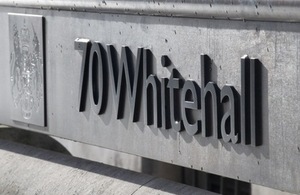 The Capabilities Plan 2014 Annual Refresh takes stock of progress to date and sets out what needs to be done next. In his foreword, Head of the Civil Service Sir Bob Kerslake says the foundations of a more capable and professional Civil Service have been laid, but realising the vision for capability in the 4 priority areas will take time.
Last year's Meeting the Challenge of Change – a capabilities plan for the Civil Service – identified 4 priority areas for development:
leading and managing change
commercial skills and behaviours
delivering successful projects and programmes
redesigning services and delivering them digitally
This year, for the first time, the civil service has a talent stream to identify and develop new recruits at all levels, from apprentices and Fast Stream entrants, through to the most senior civil servants. A secondments scheme is giving the most talented civil servants the opportunity to experience working in the private sector. At the same time, private sector secondees are coming to work in the civil service and share their expertise and experience.
Last year's successes
Capabilities Plan successes from the past year include:
over 200 leaders of the biggest projects across government have enrolled in the Major Projects Leadership Academy since February 2012; to date, 47 have graduated
over 280,000 civil servants assessed their skills against the Civil Service Competency Framework, helping them to understand their development needs better and plan their learning
over 3,600 civil servants have attended or enrolled on our 'Change Leaders' workshop since the end of 2013
the Crown Commercial Service now operates as a single organisation to buy common goods and services across departments, ensuring we build sustainable supplier relationships, and drive the best deal for the taxpayer from our commercial transactions
Future plans
Going forward, looking at the 4 priority areas; important actions for 2014 to 2015 include:
bringing in high quality commercial expertise, supported by the Crown Commercial Service
enrolling all project leaders of Government Major Project Portfolio projects in the Major Projects Leadership Academy
creating high quality learning for the 4 areas that matter most across the civil service
In the next 12 months senior leaders will champion renewed efforts to change attitudes to learning and development. They will be expected to lead a more corporate approach to building capability by drawing on central expertise like Civil Service Learning and Crown Commercial Service and sharing expertise. Every civil servant, regardless of grade or role, must complete at least 5 days of learning a year that meets the needs of their business and the skills needed for the job.
The refreshed Capabilities Plan also shows that we must strengthen civil service professions more quickly, putting in place talent strategies, career paths, and accreditation and qualification options for their members. By the middle of 2015, accredited courses will start to be available for some, including policy professionals.
Published 16 June 2014