Case study
Employee engagement and wellbeing: Scottish Government - Procurement Policy, Systems and Strategy Division
How the Procurement Policy, Systems and Strategy Division in the Scottish Government increased employee engagement from 2012 to 2014.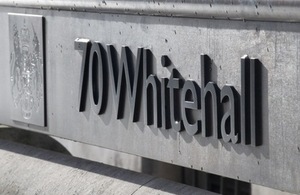 Key ideas from this case study:
share knowledge in the team, to empower everyone
in periods of change, keep communications open
promote a culture of sharing problems and collaborating
adapt to turnover in the team by allowing colleagues to shadow experienced colleagues
Procurement Policy, Systems and Strategy Division is an excellent example of improvement in engagement scores over time, which increased from 62% to 77% from 2012 to 2014, despite restructuring and change.
It has particularly strong improvements in questions about Learning and Development, and Leadership and Managing Change.
We interviewed 2 members of the division from the 2 component sub-teams (the Policy team, and the E-Commerce team), to explore why the team has done so well.
Increasing importance of the team's work
The division has about 20 people. It sets policy and standards for Scottish Public Procurement and enables best practice through guidance, online procurement systems and toolkits. It has recently gained greater ministerial attention, as a result of the introduction of the Scottish Procurement Act and new regulations from the EU.
This has required close collaboration and shared understanding among staff of the wide-ranging legislation that impacts the work of the team.
The effect of this has been highly positive. More subject matter experts have been recruited into the team, and their expertise has been shared among team members who feel more empowered in answering technical queries.
Although the changes have sometimes meant greater pressure, they have provided a context in which staff feel more responsible, and deliver greater impact.
Stepping up to the challenge of change
Contextual change can promote engagement if it's well- managed, and members of the division reported effective strategies in managing change.
There is a culture of mutual support, sharing problems and finding solutions through open communication. This was especially important as the team is located across 2 sites.
The introduction of new staff has also been accompanied by extra training and work shadowing of senior staff to help build up the knowledge base of the team.
A culture of collaboration
The division has an informal buddy system. Individuals are linked to cover one another in incidents of sickness or holiday. The fact it works as an informal system indicates a culture of collaboration, openness, and knowledge sharing.
Team members suggest that the openness in the team was partly a consequence of effective adaptation to new staff, and has been manifested in a more flexible team, made more resilient due to a focus on sharing responsibility.
The Procurement Policy Division is a great example of effectively embracing change.
Increased engagement in the face of change shows that the team have responded positively to different circumstances. It has built a culture of mutual support and shared knowledge that brings its members together as its work becomes more important.
How the benefits are seen more widely
The increase in the team's engagement has translated into more empowered staff and a more effective team.
This has helped them in their key role to support the reform of procurement in Scotland. This reform aims to ensure procurement is a key feature of policy development and the delivery of services. This in turn contributes to economic growth and efficiency.
Published 2 July 2015