Case study
Employee engagement and wellbeing: Pyle and Porthcawl Jobcentre Plus
How Pyle and Porthcawl Jobcentre Plus in the Department for Work and Pensions improved employee engagement from 2012 to 2014.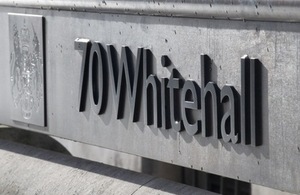 Key ideas from this case study:
communicate openly on all issues
help senior leaders be visible and accessible to all
prioritise learning – managers can fill in on the frontline while their staff learn
understand and empathise with people's personal circumstances, such as caring responsibilities
recognise team members' great work, and act on their ideas
Pyle and Porthcawl Jobcentre Plus in the People Survey comprises two small job centres situated roughly midway between Swansea and Cardiff. There are nearly 20 highly flexible team members. The team saw some great improvements in its Civil Service People Survey scores over the period 2012 - 2014. The Engagement Index increased from 55% to 86%.
Particularly strong improvement was seen in the themes of Leadership and Managing Change, and Learning and Development, and almost all responses to questions covering the themes of My Team and Inclusion and Fair Treatment were positive in 2014.
The team's manager was interviewed to understand the features of the team that have contributed to such impressive results.
Clear and open communication
A hallmark of the team is its openness. The team's management ask for feedback, and 1:1s are open in their nature and allow staff to air and resolve issues.
For example there was some staff anxiety over the potential for the location of the office to change. Management were highly responsive to team members' requests, in that they were given frequent updates on inspections of potential new offices.
Clarity of communication and openness includes areas that are difficult to talk about. Managers work to ensure that through clear communication and a trusting environment, performance issues are identified early.
Visible leadership
Every 3 months, the Senior Leadership Team visits the offices and talks to the staff. Instead of only a few members of the team being invited to talk to senior leaders, everyone is invited to attend. The manager and team leader leave staff alone with senior leaders, to promote open discussion. Any team member can also arrange a 1:1 with a senior leader, or email them directly, to discuss concerns in confidence.
Challenging and empowering staff
The team's impressive scores in the area of learning and development are likely to be driven by efforts to expose staff to new and challenging tasks. The team's management looks to pair staff with projects that suit them but challenge them, outside of their day-to-day tasks.
Training is a priority. Managers are happy to fill in on the front line while team members attend training, which shows clear commitment to staff development and illustrates the willingness of senior staff to pitch in.
Understanding staff needs and rewarding success
The team's management promote inclusiveness and fair treatment. The team seeks to understand and cater for people's different circumstances, such as caring responsibilities (including child care and caring for ageing parents).
Fair treatment also means recognising people's contributions. The team's management makes use of reward and recognition vouchers for great work such as excellent customer service.
There is zero tolerance of bullying or discrimination. The team's management report that bullying or discrimination is the first thing they look at when they receive their People Survey results.
Innovation as a potential effect of engagement
Innovation is promoted in the team. One initiative that came from a team member's idea and action, for example, is for the provision of more regular meetings focused on practical support for youth unemployed, which has generated positive feedback and great results. The centres also hold group sessions for customers at local libraries, an idea also generated from within the team.
Benefits to the wider business
The team leader feels high engagement ensures she has happy, healthy, and loyal staff, which creates a great working environment for colleagues and customers. Absenteeism is very low and staff are extremely helpful and friendly, which has been confirmed by the amount of compliments, excellent customer survey results and success stories that they get from customers they have helped into employment.
Published 21 December 2016