Case study
Employee engagement and wellbeing: Property and Facilities Management Team
How the Property and Facilities Management Team in the Met Office improved employee engagement from 2012 to 2014.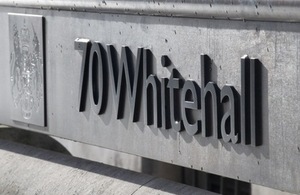 Key ideas from this case study:
recruit great people – be clear about the behaviours you want to see in candidates
consider how different personalities in the team can best work together
when generating ideas, see everyone in the team as equal
encourage a culture in which team members are sensitive to other team members' wellbeing
The Met Office's Property and Facilities Management Team had high Civil Service People Survey engagement scores of 75% to 80% in the period 2012 - 2014. Particularly impressive was the team's 'My manager' theme score: 87% in 2014.
The team looks after the organisation's assets around the country and comprises 26 staff in diverse roles: project managers, engineers, estates professionals and support staff.
The team leader was interviewed to understand how such impressive engagement scores were achieved.
Recruiting great people is key
We place great importance on the recruitment of candidates. We are particularly focused on recruiting candidates who exhibit a number of desirable attitudes and behaviours. We look especially for enthusiasm, teamwork, and willingness to accept responsibility.
This, however, has not always been easy. In fact, some recruitment campaigns result in no-one being taken on. Although this can be costly, it is accepted as necessary when searching for new team members.
A hands-on culture of enthusiasm and collaboration
A collaborative and approachable spirit surrounds the team. If a query comes in for someone who is away, others are willing to step in to help the customer. This takes off some of the pressure people face when taking a period of time away from their daily role (e.g. for annual leave or career development).
A good example of our team's culture of enthusiasm and collaboration is the new system for room bookings. Every Met Office employee was required to register for the new system. Some people were simply too busy. Team members gave up their lunch breaks to chip in and get everyone registered.

To understand one another better, our team has also undertaken personality tests, and shared the results with one another. This has led to an encouraging and open discussion amongst team members which has really helped us work together. It showed how different approaches in the team can be a great thing.
Autonomy
The team leader places considerable trust in staff to provide ideas to improve their work and the productivity of the team, through fortnightly 1:1s with managers, through monthly team meetings, and through informal discussions. Although a hierarchy exists, in the generation of ideas they operate as equals.
One of the ways we strive to achieve this is to remain open to challenges and concerns from everyone in the team. With regard to decision-making, we are careful to promote autonomy, but staff are clear on the areas in which they have discretion.

We are also keen to ensure that if a team member makes a mistake they learn lessons from their decisions and subsequently benefit.
Trust in staff was illustrated by trialling many variants of flexible working, which has been a success. Team members are able to work hours that allow them to attend to family responsibilities.
Encouraging resilience and empathy
As a team dealing with the organisation's property and estates, staff sometimes have to deal with difficult customers and complaints. They do so with measured responses, empathising with the customer. If the situation becomes too much, they share the burden with team members.
As a team we know one another well, understand how each other think and react to situations, and are well placed to provide support to one another.
Business benefits
The team exemplifies how a culture of enthusiasm, collaboration, and autonomy creates staff willing to go the extra mile for their customers and colleagues.
Published 21 December 2016