Case study
Employee engagement and wellbeing: Clay Cross Jobcentre Plus
How Clay Cross Jobcentre Plus in the Department for Work and Pensions improved employee engagement from 2012 to 2014.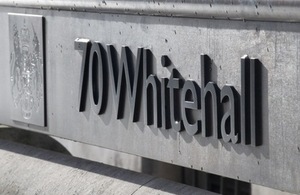 Key ideas from this case study:
be clear about objectives
embrace change
bring the team together, e.g. arrange cover with another team so you can have an off-site team development day
celebrate success
Clay Cross Jobcentre Plus is a relatively small Jobcentre (19 staff) which sees high footfall from members of the public across North Derbyshire. In 2012, it was near the bottom of the agencies league tables across a range of metrics.
However, between 2012 and 2014 the team saw an impressive 39 percentage point increase in its engagement score in the Civil Service People Survey and also saw an increase in their performance metrics. We interviewed, the manager and team leader respectively at the time, to hear about how a focus on improving performance metrics also drove up engagement.
Be clear about objectives
Even though some team members had been in the job for a while, they were not always clear about our performance metrics and how to improve them. I therefore clearly communicated our objectives and why our roles were important. I also made sure I never missed catch-ups with staff, so no one could argue that they didn't know what was required of them.
Encourage staff to embrace change
The team had to adopt a new way of working in 'unipods'. Each pod has a small team of Work Coaches and Assistant Work Coaches, which means that people are allocated to different teams. The team's leaders clearly communicated why the change was happening and encouraged a 'can-do' attitude. In order to turn it into a fun challenge a little healthy competition between pods was encouraged, which the team enjoyed.
Bring the team together
In order to encourage team interaction, we started morning huddles. These were an opportunity to say good morning and share our priorities for the day ahead. Even though these were optional, people wanted to attend.

Despite being a busy customer-facing team, I also made sure we had a team development day by arranging cover with another Jobcentre. As part of the event I asked the team to draw up their values and discuss their views on what constitutes professionalism. This ensured everyone was on the same page.
Make sure people have the right skills for the job
The manager took the time to understand her staff's strengths and weaknesses and asked them to let her know if they didn't feel capable of delivering a particular task. This allowed her to adjust roles to play to people's strengths, rather than disengaging them by forcing square pegs into round holes. At the same time, she made sure staff had time for training opportunities, to make sure they had the right skills for the job.
I also made sure I celebrated staff's success. I highlighted things people had done well, and rewarded hard work. I introduced a board where staff could share good news stories, letters of thanks from customers who we had helped into employment and thank their colleagues.
High engagement brings business and personal benefits
Our key aim was to improve business performance and the improvement we've seen has been phenomenal; we have smashed some of our targets. Staff felt part of a team and are proud to work here, putting us in a much stronger position to deliver new programmes, such as Universal Credit.

We interact much more as a team now, often doing things outside of work such as going for meals. This is also a chance to celebrate our business success!
Published 21 December 2016