Case study
Employee engagement and wellbeing: North West Area Operations Centre
How the North West Area Operations Centre in the Crown Prosecution Service improved employee engagement from 2012 to 2014.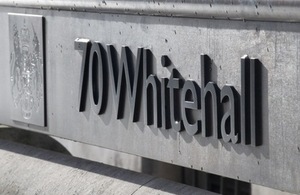 Key ideas from this case study:
build one team culture across geographical locations to maintain high engagement
communicate and listen
embed engagement across the whole team
Employee engagement scores in the Civil Service People Survey for the Crown Prosecution Service's (CPS) North West Area Operations Centre have been consistently high despite ongoing changes within the team, ranging from 68% in 2012, to 74% in 2014.
In summer 2015, the Estates and Facilities Manager and the Area Performance Manager, discussed their personal reflections on how the team's engagement has remained high.
Bring the team together despite geographical dispersion
We think positive relationships between members of the team is one of the drivers for helping to maintain high engagement despite experiencing change. In the past we used to be three separate teams: Lancashire, Cumbria and Greater Manchester. When we joined together to become the North West regional hub (split between two sites in Preston and Manchester) there was some duplication of roles. At the time people felt quite fearful but we knew that we had to become one team.

In order to find a way forward the three teams attended a development event held on neutral ground. We were mixed into groups and started to build new friendships and working relationships. The ongoing success of that means that despite the physical distance we are a close team and people get on well together. We respect each other, we help each other out, and people are approachable. There is a perception of openness within the team, and we are happy to ask each other questions.
Managers who are visible
Having good two way communication within the team is really important. Managers are visible within the office, they talk to people and make an effort to try and include everyone. This means people have more of an emotional commitment to the organisation.
Our advice for managers wanting to improve engagement in their team is not to sit in a small office and close the door, physically join your team and get to know people, be approachable. This is particularly important when the team is undergoing changes, which we do regularly. People want to be kept informed. Even if there is no update just tell people that. It helps to build up trust and confidence when you have regular communication.
Provide regular feedback
Getting regular feedback is also a motivating factor within the team. Team managers are open to receiving feedback and constructive challenge is always welcomed. Senior leaders also provide feedback to individuals. This allows people to both take pride from what they do, and develop.
We have also told our staff that they have a responsibility to speak up if they have concerns or they are not happy. If people feel unable to provide feedback directly in person they can provide this anonymously through a link provided on the intranet.
Engagement by everybody leads to greater efficiency
Within the team, everyone is responsible for contributing to engagement, it is not just the responsibility of one person. There is a group of people driving that message and it has always been like that in our team. While we do look at and discuss the results from the annual people survey our approach to engagement is more organic and informal.

Having a highly engaged team allows us to get more work done. When people are engaged we can trust that they are delivering their work. This means we don't need to spend time micro-managing people. It's a more effective way of running an organisation, you get more work done and have more flexibility.
Published 21 December 2016