Press release
FCO Minister urges South Sudan Government to finalise peace deal
Tobias Ellwood calls on South Sudan Government to sign IGAD+ peace agreement and for all parties to implement it.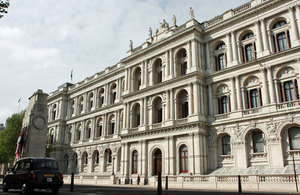 Speaking following the summit hosted by the Intergovernmental Authority on Development (IGAD) in Addis Ababa, Tobias Ellwood MP said:
I welcome the progress made at the summit on South Sudan on 17 August, with the signature of a peace agreement by the opposition and other South Sudanese parties. But I am deeply disappointed that the Government of South Sudan has not yet signed. I strongly urge them to do so immediately and call on all parties to commit fully to implementing the agreement. After 20 months of fighting, and with 2 million displaced from their homes, further delay beyond the 17 August deadline is completely unacceptable. The UK and its troika partners, the US and Norway, stands by the people of South Sudan and calls on the Government to make peace a reality. We will consult with our regional and international partners on the immediate next steps.
Notes for editors
Tobias Ellwood's full speech at the summit is available here
Further information
Published 18 August 2015