Press release
FCO Minister Hugo Swire visits Burma
FCO Minister Hugo Swire visits Burma for second time and meets Aung San Suu Kyi and Ministers on democracy and human rights Burma.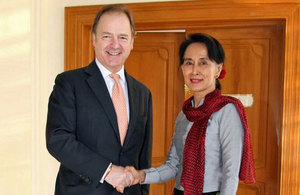 Foreign Office Minister Hugo Swire today arrived in Burma for discussions with Aung San Suu Kyi and senior Burmese government figures on democratic change and the situation in Rakhine State.
This is the Minister's second visit to Burma in 13 months and demonstrates the UK's commitment to improving human rights, supporting the ethnic peace process and lobbying for progress in Rakhine State.
Speaking following meetings in Naypyitaw, Burma's capital, Hugo Swire said:
This is a critical year for Burma's transition. This country has come a long way over the last three years – and on this, my second visit, I am pleased to see evidence of the progress that has been made. But there remains much to be done. Most urgently I raised the importance of changes to the constitution to enable fully democratic elections in 2015; changes which would allow all citizens to run for the Presidency, and which would enshrine equal rights for all of Burma's peoples.

I have also made clear to the Burmese government that I remain extremely concerned by the situation in Rakhine State, and I urged a transparent investigation in to recent reports of people being killed, mainly Rohingya women and children. Urgent action must be taken to enforce the rule of law and ensure justice. The continuing violence is a tragedy which must be stopped and which otherwise risks jeopardising the wider reform process.
The Minister will visit Kachin State tomorrow, and give a speech at Rangoon University on Thursday.
Further information
Follow Foreign Office Minister Hugo Swire on twitter @HugoSwire
Follow the Foreign Office on twitter @foreignoffice
Follow the Foreign Office on facebook and Google+
Published 28 January 2014