Press release
FCO concerned by increased violence around Nagorno-Karabakh
The Foreign Office expresses concern at recent violence around Nagorno-Karabakh and urges all parties to reduce tensions.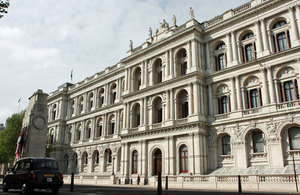 The past week has seen reports of a rapidly deteriorating situation on the Nagorno-Karabakh line of contact and the Armenia-Azerbaijan border. Reports of increasing numbers of fatalities and the use of more advanced military equipment poses one of the most worrying violations of the ceasefire in its 20 year history.
A Foreign and Commonwealth Office Spokesperson said:
The UK appeals to both Armenia and Azerbaijan to take immediate action to reduce tensions and respect the 1994 ceasefire agreement. We are deeply saddened by the continuing loss of life on all sides. Recalling the statement of Minister for Europe David Lidington on the 20th anniversary of the ceasefire in May, we urge the parties to work with the OSCE's Minsk Group Co-Chairs towards a peace agreement.
Further information
Follow the Foreign Office on twitter @foreignoffice
Follow the Foreign Office on facebook and Google+
Published 4 August 2014