News story
FCO celebrates annual Human Rights Day
Ahead of Human Rights Day, Minister for Human Rights, Baroness Anelay hosts an annual event at the FCO to celebrate UK action on universal human rights.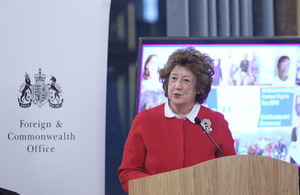 Saturday 10 December marks UN Human Rights Day, which commemorates the day on which the United Nations General Assembly adopted the Universal Declaration of Human Rights in 1948.
To mark this, the Foreign Office hosted an event attended by over 100 guests to focus on civil society and democracy – an important strand of the department's human rights work.
Complementing the United Nation's chosen theme for this year of 'stand up for someone's rights today', the event emphasised the importance of a strong civil society and honoured the work of human rights defenders.
It also underlined the importance of NGOs and wider civil society in promoting respect for human rights and in helping states to achieve long-term security and sustainable economic development.
Baroness Anelay said:
All around the world people's human rights are under threat, so the role of civil society and human rights defenders has never been more important.

A shrinking civil society harms a country's stability, economic prospects and wider social development. Providing space for civil society to operate is therefore crucial to the spread and strengthening of democracy all around the world.

An active civil society is the hallmark of a mature society; one that is open to challenge and able to protect the rights of its citizens. Governments should not only allow but proactively nurture a healthy civil society. They should commend human rights defenders – not condemn them.

This is the message that we will continue to promote both at home and abroad as we stand up for human rights.
Amarildo Fecanji - Executive Director LBGTI Equal Rights Association for Western Balkans and Turkey, Ruth Hunt - Chief Executive, Stonewall, William Gelling - High Commissioner to Rwanda, and Thomas Hughes - Executive Director, Article 19 also took part in a panel discussion at the event.
Promoting human rights is integral to the purpose of all British diplomatic missions, as they work with international partners and organisations to promote safer, more inclusive, prosperous societies.
Notes for editors
Further information
Published 9 December 2016