Press release
UK elected to the UN Human Rights Council
The UK has today been successful in its bid for election to the UN Human Rights Council for the term January 2017 – December 2019.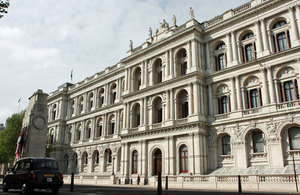 This follows an eleven month campaign, resulting in a high number of votes from countries around the world.
Following the announcement of the election results in New York today, Human Rights Minister Baroness Anelay said:
I am delighted that the UK has been re-elected to serve a further three year term on the Human Rights Council. The UK has been a strong advocate of the vital work of the Council since its inception, and we are honoured to continue to serve as a member.

The UK works tirelessly to protect vulnerable people from discrimination and to champion global causes including ending modern slavery and violence against women and girls, and promoting the universal right to freedom of religion or belief.

We will continue to use our voice to help strengthen the Council, to support countries working to improve their human rights record and to hold to account nations that commit serious and systematic violations against their citizens as we did recently leading a strong resolution at a Special Session at the Human Rights Council to address the deplorable situation in Aleppo.

I thank those who supported our candidacy and look forward to working closely with the Council, the Office of the High Commissioner for Human Rights, and civil society to deliver our election pledges.
Further information
Published 28 October 2016