Press release
Fallon: Cuts in red tape now saving business £1.5 billion per year
Business Minister Michael Fallon today confirmed that the government has reduced the total annual net cost to business of regulation by £1.5 billion.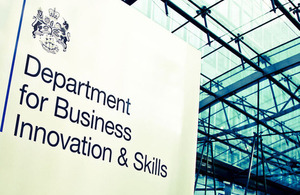 Today's (9 July 2014) Statement of New Regulation details all regulation expected to come into force between July and December 2014, as well as regulation to be removed - including under the government's One-in, Two-out rule and the Red Tape Challenge, which has now implemented over 1,000 deregulatory reforms.
The statement shows that ministers remain on track to deliver an overall reduction in the cost to business of new regulation over the course of this Parliament.
New reforms will:
modernise road transport legislation, reducing administrative costs to business and administrative inconveniences to motorists. Changes include removing the requirements for motorists to display a tax disc in their vehicle, removing the requirement for fleet firms to hold vehicle registration certificates, and increasing the availability of electronic services for notifying DVLA of changes to vehicles
give up to 150,000 more micro-businesses access to the same redress system that domestic customers use when a consumer complaint cannot be resolved directly with an energy provider. It will ensure that disputes are resolved quickly and at minimum cost to the micro-business
Business Minister Michael Fallon said:
"The government is stripping back unnecessary rules that restrict enterprise and act as a brake on jobs and growth. With £1.5 billion saved to date, we are making good on our promise to free businesses from interference from Whitehall."
Measures that have contributed to the £1.5 billion savings include:
giving more businesses the flexibility to decide whether their accounts should be audited, saving business £300 million a year
extending the Primary Authority scheme, giving more firms access to consistent regulatory advice and enforcement
removing thousands of low risk businesses from unnecessary health and safety inspections
freeing responsible employers from being held liable for workplace accidents and injuries that are totally outside of their control, through reforms to civil liability rules for breaches of health and safety law
simplifying mandatory reporting of workplace injuries for businesses
introducing a simple portable criminal records check, which employers can view instantly online
the introduction of early conciliation, which requires employees considering lodging an employment tribunal claim to contact ACAS mediation services beforehand, saving more people the time, cost and anxiety of facing an employment tribunal, and saving businesses £24 million per year
The government is also working with partners in the EU to reduce the unnecessary costs of European legislation, including through the Business Taskforce. Ten of the taskforce's 30 recommendations for reform have already been implemented, including unnecessary bureaucracy around clinical trials, non-financial reporting and environmental impact assessments.
Ministers are also changing the way regulation is enforced, putting businesses at the heart of the system through Business Focus on Enforcement reviews. These give business groups the opportunity to demand that regulators reform counterproductive or unnecessarily bureaucratic practices. New reviews into the importation of fresh produce, livestock farms and the export of electronic goods will commence this year (2014).
Notes to editors
The Eighth Statement of New Regulation is on gov.uk

To increase the pace of de-regulation, the government introduced the One-In, Two-Out rule in January 2013. Departments are now expected to offset any increase in the cost of regulation to business by finding deregulatory measures of at least twice the value.

The government is committed to fostering and encouraging the entrepreneurial spirit that thrives in the UK. The Small Business, Enterprise and Employment Bill will reduce the barriers that can hamper the ability of small businesses to innovate, grow and compete. It paves the way for government to be more supportive of small business in the UK. The bill will open up new opportunities for small firms to innovate, compete and get finance to create jobs, grow and export.

The government is working with partners across Europe to reduce the burden of EU regulation on business. Priorities for making the EU more business-friendly include persuading the Commission to publish an annual statement of the net cost of EU legislation, to help business see what burden of regulation stems from the EU; and making sure that businesses have an opportunity to influence EU proposals at an earlier stage. The government is backing 30 recommendations for reform drawn up by a taskforce comprising 6 heavy-hitters from the UK business community appointed by the Prime Minister.

Focus on Enforcement reviews examine how regulation is delivered – whether through inspections, advice, or enforcement – rather than focusing on the design of the regulations themselves. On 10 March 2014 Business Minister Michael Fallon invited industry bodies to bid to help run a Business Focus on Enforcement Review - a new phase of the programme. This will allow industry groups such as trade associations to lead reviews into regulatory enforcement in their sectors and present the case for change directly to regulators and ministers.
Published 9 July 2014